Kizer has a favorite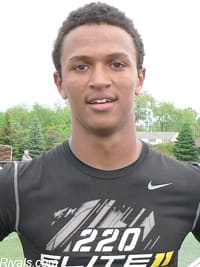 The run on quarterbacks usually happens in the time period between National Signing Day and the end of the Spring Evaluation Period. Toledo (Ohio) Central Catholic four-star quarterback
DeShone Kizer
understands that, and has already started narrowing his focus.
"I think that Michigan State, Tennessee, North Carolina, Kentucky and Louisville have really stepped up in the recruiting game," Kizer said. "Right now I would say them along with and Ohio State, who hasn't offered, and I would add in a Rutgers, are the seven schools I have kind of narrowed it down to right now."
Kizer did not stop there, however. The 6-foot-4, 205-pound passer went on to name the one school that stands out most among those under consideration.
"Right now, Michigan State has become sort of a leader just for the fact that I have been there quite a few times," Kizer said. "Coach [Mark] Dantonio, Coach [Dave] Warner or the area [recruiting] coach came down once a week, so they really have been putting the full-court press on me. Now it is to the point where it's almost like I know everything about them."
A total of three trips have been taken to Michigan State over the past year, with Kizer's most recent visit to the Spartan's campus happening last month.
"I went to Michigan State's elite Junior Day," Kizer said. "I got to see some basketball and sat down with Coach Dantonio quite a bit."
The trip to East Lansing was the only one Kizer has taken this winter because he is currently involved in his high school basketball season. Once basketball ends, baseball starts for the three-sport star, so he plans to get creative in scheduling visits as he works towards his college selection.
"Right after basketball season I am going down south to play baseball in Florida," Kizer said. "So I want to stop by Kentucky, then continue down south and go to Tennessee and then head east and go to Duke and North Carolina before I head down to Florida for baseball.
"Now it is whether I will be able to get out to other schools and if those guys can catch up to Michigan State. Being a quarterback, it is kind of a race. Most schools are only taking one guy [per class], and schools like Michigan State and North Carolina have put out more than three offers. All those guys are probably thinking the same thing I am… who's going to commit first?
"The sooner the better is my motto right now, but I don't want to be close-minded just because I have been to Michigan State quite a few times. You still have to weigh out your options and see what those schools have to offer."
Kizer said he loves the position he is at right now, and the recruiting process has not thrown him too many curves. He is being mindful of the clock ticking down on some of these scholarship offers, however, and is doing his due diligence to make sure the right opportunities are on the table when he makes his decision.