Kight's rollin' with the Tide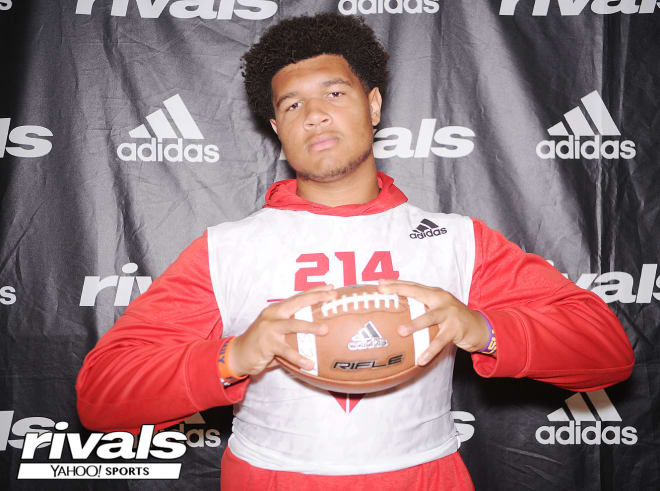 Rivals 250 offensive tackle Amari Kight of Alabaster (Ala.) Thompson took visits to Alabama, Auburn and Georgia this spring, but that last one to Tuscaloosa for A-Day April 21 pushed him to commit to the Crimson Tide.
The 6-foot-6, 300 pounder decided a few days ago that he was ready to make his decision and he breaks down his decision with Rivals.
IN HIS OWN WORDS: "When I was at Alabama last week for A-Day, it really sealed the deal," said Kight. "It just felt like the right time to commit. Alabama has great tradition, I have a great connection with the people there and it feels like home for me there.
"I was not planning to commit this early, so it just kind of happened. A few days after the spring game is when I made the decision. I called up coach [Brent] Key and gave him the news. He was excited and when I told him, he was with his dog, and he even said his dog was excited about my commitment.
"Coach Key played a role in my decision. I like him a lot, I feel comfortable with him and I see him as a great coach. He is fun to be around, but at the same time, he is a great teacher. I feel he can get me to where I want to be as an offensive lineman.
"I watched the NFL Draft and I saw all of the Alabama guys being drafted, so that played into it too. That is where I want to be one day, so that was pretty important.
"I grew up a big Alabama fan, so it is a great feeling to be committed to them. I started following Alabama right when coach [Nick] Saban took over. One of the first players I remember watching was Andre Smith and he did great things at Alabama. That is what I want to do.
"Being around the people at Alabama when I was there for the spring game just made me feel like it was time to commit. I don't really know who the No. 2 school was, but Alabama is on top."
RIVALS REACTION: Kight earned an invite to the Rivals 100 Five-Star Challenge after his performance a few weeks ago in Atlanta. He is a very impressive offensive tackle and one thing that stood out more than it did a year ago was his confidence. He moves well, he has a great frame and he will not partner up with another top tackle at Alabama in Pierce Quick. Saban, Key and that staff have a chance to sign an elite group of offensive linemen this cycle. Kight has the ability to be an All-Conference guy on the next level. He has improved a lot over the last year and he has a very high ceiling.