Kennedy handles business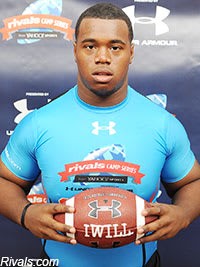 Wetumpka (Ala.) offensive lineman
Brandon Kennedy
was a sight to see on Sunday at the Rivals Camp Series stop in Hoover. The 6-foot-2, 293-pound interior lineman put on a show for all on hand and definitely made sure people knew who he was when the camp was over.
Kennedy has attracted offers from across the region and before Sunday's camp he let everyone know the latest news.
"Well my latest offers are Troy, Western Kentucky and Old Dominion, and Missouri has been recruiting me the hardest," Kennedy said. "I have an offer from them. I don't know if I'm planning to visit before the end of spring. Northwestern has been recruiting me and JSU and UAB and all those schools."
Kennedy does not claim any favorites, but Missouri and Southern Miss are recruiting him the hardest. What are they doing?
"They send me about five written letters every week, and I talk to them every week so they're recruiting me the hardest," Kennedy said.
He may not have a favorite but he does know what he is looking for in a future college home.
"I want to be great athletically and academically," Kennedy said. "I want to be a pharmacist."
He also has an idea about when he wants to decide.
"Maybe this summer because I'm graduating early next year," Kennedy said. "So it's going to this summer or at the end of the summer."