Kennard receives All-American honor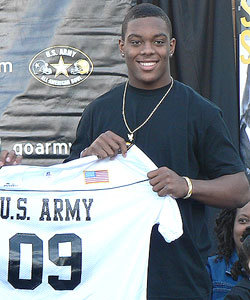 Phoenix Desert Vista High School superstar recruit
Devon Kennard
won't be able to participate in the U.S. Army All-American Bowl due to a knee injury, but that didn't keep him from grinning ear-to-ear upon receiving a formal invitation to the game Tuesday morning in front of hundreds of well-wishers on the school's outdoor stage.
"It's an honor," Kennard said after thanking his family, coaches and teammates. "Ever since I knew about the Army game I had dreams of playing in it so to finally to get nominated and know that I have this opportunity, I'm honored."
Kennard tore the anterior cruciate ligament in his right knee on a fourth quarter play against Chandler High School on Sept. 19, prematurely ending his senior season.
Six weeks removed from surgery, Kennard was able to step up to the podium without the aid of crutches to don the prestigious Army All-American jersey.
"I feel really good right now. I got off crutches this week and I'm excited about moving on to the next stage of the recovery process," Kennard said. "I'm getting better every day. I'm doing my rehab three times a week and I go in and get treatment here at the school the other days. It's full force trying to get my body back right."
As a junior, the 6-foot-3, 257 pound Kennard set a state record with 24.5 sacks from his defensive end position as Desert Vista earned a state championship game berth.
"For those of you that don't know -- and most of you do around here -- you guys don't realize that Devon has received every honor that a high school football player can receive," Desert Visa coach Dan Hinds said Tuesday. He was a first-team all-region player, he was Defensive Player of the Year last year in our region, he was a first-team all-state, he was Defensive Player of the Year (in the state), Defensive Lineman of the Year, the No. 1 defensive linemen in the nation and (at one point) the No. 2 recruit in the nation.
"Now he's been chosen an All-American. That is something else. We've never had anybody here at Desert Vista do all of that. I just want him to know how proud I am of him and what a pleasure it's been to be his football coach."
Kennard said while it would have been nice to participate in the game itself, he still is planning to fully soak up the atmosphere around the week-long event.
"I wish I could play but I have a different plan and I still get to go and be a part of it and always be known as a U.S. Army-American," Kennard said.
With a top-five list of ASU, Cal, Texas, UCLA and USC, Kennard said he is planning to take multiple official visits before reaching any conclusion about which college he will attend.
"It's definitely a possibility I could announce at the (U.S. Army) game but I've still got to take some of my trips and see how I feel at that point," he said. "I'm still not sure when I'll commit. We're just going to go with the flow and see how it plays out. This weekend I'm going to Cal Berkeley and the weekend of Dec. 12th I'm going to USC.
"I'm still looking at all of the schools I've been considering and am keeping an open mind but also thinking a lot about it since my injury. Nothing is close to decided though."
In the weeks ahead there will time for Kennard to settle on selecting a college. On Tuesday, however, it was about celebrating the culmination of an impressive prep career in the manner he had always envisioned. As a U.S.Army All-American.
[rl]