Kellys departure felt in Texas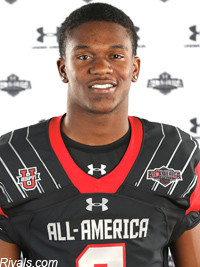 Chip Kelly has left Oregon for the NFL, and with that come the ripples through the waters of the recruiting pool.
In Texas those ripples are being felt first-hand by DeSoto head coach Claude Mathis, who coaches Rivals250 running back and Under Armour All-American
Dontre Wilson
.
Before Wilson committed to the Ducks in May, the 5-10, 180-pound back was one of the most highly sought after prospects in Texas, and with the news of Kelly's departure came a flood of visits and phone calls.
"I can tell you everybody from the Midwest to the East coast to the West coast has contacted me today about Dontre Wilson. It's been a crazy day today," Coach Mathis said. "Even the coaches at Texas. Everyone in states close to Texas have contacted me as well. Its one of those things where he's a hot commodity which it should be. He can get the job done. I know anyone will be very fortuntate to have him right now."
Newly hired Texas running back coach Larry Porter was by the school today to see how everything was going.
"They've come through. They are very interested in Dontre. They have always been very interested in Dontre as well as the rest of the Texas schools," Coach Mathis said. "With everyone else I think they're waiting to see what Dontre will do. Is he going to decommit or is he going to stay with Oregon? And I think that decision is going to happen within the next 72 hours."
For now though nothing has changed with Wilson's commitment status.
"Dontre, he's still an Oregon Duck," Coach Mathis said. "I think he and his dad are going to sleep on it. If they have any questions we'll sit down tomorrow. We'll sit down and I'll give them my opinion as well. We'll take it from there. But right now we have not talked to Oregon at all and haven't heard from Oregon at all and I'm hoping to hear from those guys pretty soon."
Wilson and his family did hear from Oregon yesterday, in fact they met with Oregon coaches yesterday. There were hints here and there that coach something could be brewing, and the Wilson's and the DeSoto coaching staff understand it is the nature of the business and find no fault with the decision. However, they were not caught flat footed and the next step is to talk to the Oregon coaching staff to get the latest. The thought is they will talk soon.
"Probably before the night is up," Coach Mathis said. "I have a really good relationship with coach Campbell and I'm hoping he gets in contact with me. The last time we talked we talked about this happening and it has happened now so I'm waiting to hear from those guys to see what direction the program is heading."
Whether he decides to remain committed to Oregon or not there is a good chance Wilson decides to take his official visits.
"I think since Chip Kelly is gone he has the right to visit and I'm quite sure he's going to exercise that right," Coach Mathis said. "It's not right for them to say he can't visit now. I'll be very upset and furious if somebody told him he can't take any visits now. I would be very, very upset."
So if he does visit, who will he visit? That answer has not yet been determined.
"I think there's a lot of teams across the country," Coach Mathis said. "I think there's some teams across the country that he would like take a look at now. I can say he's very interested in probably about a good five of them for sure but he's going to take a look at all of them and make a decision from there."
Speculation has already begun. One school to follow is Ohio State. The Buckeyes were very much in the mix before Wilson committed to Oregon in the spring, and he has mentioned on more than one occasion his intrigue with the Ohio State offense. Notre Dame has also surfaced as a possibility, but for now coaches wait anxiously for his next step.
Whatever happens next, look for the Wilsons to take their time before making a final decision.
"It's going to be close (with signing day). It's going to be close. It's going to be very, very close. I don't know if he's going to make the decision before signing day," Mathis said. "It's going to be very interesting where he decides because I think there's a lot of great schools out there that he's going to have to think about and think very hard and long about. He's going to do what's best for him especially when it comes to degree-wise and trying to get his education. So I think him having a decision before signing day is a 50-50 chance right now."