JUCO WR Smith visits Ohio State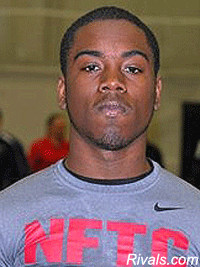 East Mississippi Community College wide receiver
Corey Smith
returned to his home state of Ohio on Saturday to take in the rivalry game between Ohio State and Michigan. It was the four-star prospects second Ohio State game visit this fall, but first time seeing the rivalry.
"It was a good game and Ohio State had a good season," Smith said. "There was a lot of emotion, especially because it was their last game. It went about as I expected and I had a good time."
The 6-foot, 170-pound Smith also used the experience to evaluate head coach
Urban Meyer
's offense and his potential fit.
"I know they need some playmakers to come in and make some plays so they can throw the ball some more, so it's a good fit for me," Smith said.
Smith received an offer from Ohio State earlier this fall, and he talks with wide receivers coach
Zach Smith
weekly. He also felt the love from the coaching staff while on campus Saturday.
"Coach Meyer hollered at me," Smith said. "Coach Smith pulled me to the side and hollered at me. They treated me right and all was good."
Schools across the country have extended offers to Smith, and he still does not list a favorite. Official visits are starting up next week, though, and Ohio State is in line for one of his five trips.
"I'm going to take my official the first or second week of January," Smith said. "I have an official to Mississippi State Nov. 30 and an official to Hawaii on Dec. 8. Tennessee probably [receives an official] and probably another school."
Smith finished off a productive season at East Mississippi earlier this month, catching over 50 passes for close to 800 yards and 10 touchdowns.