Juarez not focused on spotlight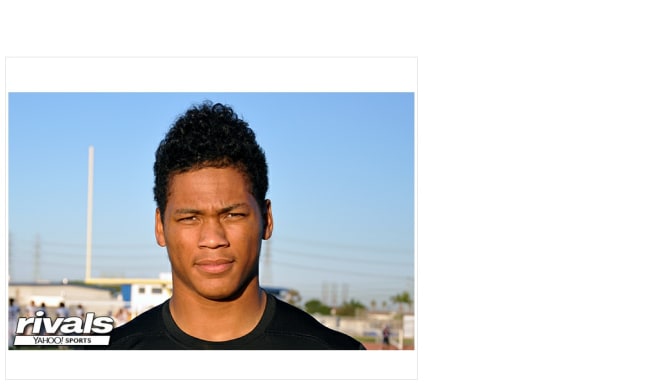 TORRANCE, Calif. -- Some elite prospects crave media attention,
the spotlight and the glamour that comes with being one of the nation's best
players.
The five-star linebacker from Torrance (Calif.) North, ranked as the top
prospect in California, admits to lacking confidence even though he's always
dominated in football.
His coach agrees.
"He's going to have to buy in to being ready to go right away," Torrance North's
Todd Croce said. "He's the calm, quiet, nice kid. He has another side of him on
the field and he likes playing football, but he's going to have to be ready to
play right away. He doesn't recognize the potential he has.
"We sent him to a camp at the beginning of last summer and told him he would be
the best guy there. He said, 'No way' and we were like, 'Yes, you are.'"
Juarez, who's 6-foot-3 and 220 pounds, could have easily transferred to one of
the local powerhouses. Gardena Serra is a couple miles down Van Ness Ave. Others
would have gladly taken him because he's so good and so versatile.
But the five-star wanted to continue his family's legacy of playing at Torrance
North and so that's where he stayed, dominating at quarterback, punishing
opponents on defense and being a wanted man by every top program in the country.
He entered Friday's game with 45 total touchdowns. Add three more to the list
after Juarez led his team to its eighth win this season. On the field, Juarez
can do almost anything he wants.
made with little fanfare (he has since reopened his recruitment). There was no
press conference and Juarez didn't fiddle with hats. It was not even made public
at first.
Juarez doesn't crave the spotlight but it's impossible to hide from now. He's
too talented, the exposure too great. Never embraced but accepted, Juarez moves
forward, team first, recruiting second and always putting the spotlight
somewhere else.
"I don't really have a lot of confidence and my dad knows that and he sees it,
too," Juarez said. "I doubt myself and my ability and the way I can play. I've
been feeding off my accomplishments and the way I've been playing. I know I'm
not the best but I'm pushing to be the best."
and Juarez laughed when asked if more teams keep getting in the mix. The quick
answer was yes, basically everybody wants him to visit.
There has been some question whether he will leave Los Angeles since his entire
family is in the area.
still in the picture even after his decommitment and the Trojans' next coach
could play a crucial role recruiting him down the stretch.
Leaving town seems like a real possibility now more than before, especially
after Juarez and his father had some conversations about the future. His family
is expected to join him on some official trips. Having the ability soon to
really experience other places will be a crucial factor in Juarez's thinking.
"Once I take these trips I want to see if I'm good with the environment and the
surroundings especially with the players," Juarez said. "I'm open to it. It's
time to grow up. I've been a Cali boy forever. Now it's time to take the trips
and see if I can handle the weather out there."
Official visits will be crucial. The only time he's ever been on an airplane was
to go to The Opening last summer. He's been to Las Vegas but has no other
out-of-state trips so his scope is limited.
While Juarez is talented on both sides of the ball -- so much so that
shot at quarterback -- he will most likely play linebacker in college. He's big
and physical but runs like a wide receiver and, when playing quarterback, he
proves nearly impossible to tackle.
This past weekend -- and every week prior -- Juarez simply took over whenever he
wanted to. He threw defenders down with ease. He dodged tackles, forced four or
five players to bring him down and then on defense came up and made hits that
rattled helmets.
Croce knew what he had in Juarez years ago.
"The summer leading into his freshman year we took him to El Camino for a
passing league and he played against the varsity kids and he was playing safety
and receiver," Croce said.
"Against one school we put him at quarterback and he just did fine. He fit in.
This was before he took a snap as a freshman so the writing was on the wall.
Mique was just ready to go. He played freshman football the first game and we
said that can't happen, that's ridiculous."
Juarez moved to varsity as a freshman, he was an all-league receiver as a
sophomore, the offensive player of the year that season and the defensive player
of the year as a junior. Wherever Juarez plays, he takes over.
"This kid can do it all," Croce said. "It's absurd."
And it's why he's one of the most-wanted players this recruiting cycle.