Jones sure of one official visit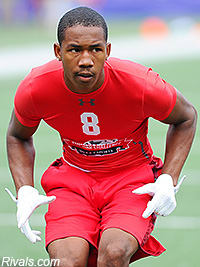 Jack Jones
plans to take at least a few official visits but he's not sure of his complete list yet.
The four-star athlete from Long Beach (Calif.) Poly is confident about one trip this fall, though, and he's definitely looking forward to it.
"The only one I know for sure is
Michigan
," Jones said.
"Really it's the (Jim) Harbaugh thing. I know if I go up there I'll get great coaching no doubt and I'd be prepared for the NFL. That's what I'm looking for so I want to go up there and see what it's like."
Jones, who has shined at cornerback this offseason and has also proven himself as a capable wide receiver, has talked highly of the Wolverines for months.
Harbaugh's NFL experience is definitely a big plus so the Long Beach Poly standout wants to take a trip to Ann Arbor this fall.
Other visits are expected but Jones does not have a final list planned yet. He has considered Texas A&M as a possible destination along with other schools but nothing has been figured out.
As for upcoming camps at UCLA and USC, it doesn't sound like Jones will be participating. He could stop by but Jones has been going full throttle the last few months and is planning to take it easy at least for a little while.
"I'm not doing those," Jones said. "I'm not going up to that stuff. I was trying to get up to the UCLA tournament but my dad isn't going to let me.
"My dad's not letting me so I don't think I'm going to be in that unless he changes his mind. My dad wants me to shut it down because the last month or two I've been going really hard so he wants me to take it easy."