Jefferson has early favorite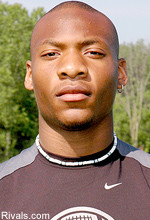 Kankakee, Ill., linebacker
Dustin Jefferson
has been a starter at defensive end since his sophomore season. However the 6-foot-1 and 205 pounder is projected as an outside linebacker in college.
Jefferson made 117 tackles including four sacks during his junior season. For his work he was named all-conference, all-area, and second team all-state.
Jefferson's play has been impressive to recruiters as well.
"I'm looking at Illinois, Iowa, Ohio State, North Carolina, Purdue, and Northern Illinois," Jefferson said. "Illinois and Northern have offered me.
"Illinois is my favorite right now. But I'll probably wait a couple more months.
"I've been to Illinois for junior days and Iowa for a junior day. I want to visit Ohio State this summer and maybe Purdue."
Asked which recruiters have called this month, Jefferson said, "Ohio State, Wyoming, Ball State, Illinois, Purdue, Iowa, those are the main ones right there."