Jackson talks Nebraska trip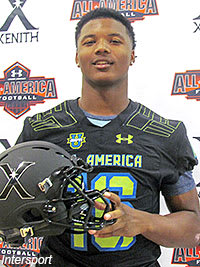 Lamar Jackson
had a fantastic visit to Nebraska and really hit it off with the coaching staff and now says the Huskers have moved up his list.
Not only did the four-star defensive back from Elk Grove (Calif.) Franklin see one of the biggest upsets this college football season. He also got a chance to see what the Huskers could offer - and he definitely has more to consider.
"I came into Nebraska open-minded and everything was great," Jackson said. "The coaches were really good and it's a great place. The atmosphere was amazing.
"Coach (Brian) Stewart is leading my recruiting and he told me this weekend that if I go there he could make me the best player I can be and one of the big things in my decision that I stressed to him is I want to come in and compete. He told me the need is there and he treated me like one of the players already so I appreciated that."
Jackson, rated as the seventh-best safety and No. 87 overall, also some connections to receiver coach Keith Williams that could be important as he continues to work through his recruitment.
"It was the same thing with coach Williams," Jackson said.
"He knows one of my 7on7 coaches and he coached my receivers coach in high school so that's a big part of why I decided to take a trip here. The coaches reach out to each other and he said they love me up there."
As for the rest of his recruitment, Jackson has already taken trips to Arizona, Arizona State, Michigan and Utah. He decided Nebraska would be his last trip over USC and UCLA but both of those programs remain under serious consideration.
As for the Huskers, after the visit they have definitely made a charge.
"They definitely moved up," Jackson said. "They kept coming and my coaches have been in contact with them and because of that I wanted to come out here and see what they have to offer. I'm glad I came out here."