Jackson sets five visits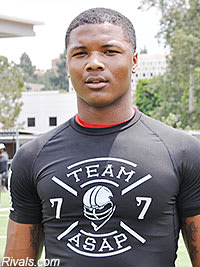 Lamar Jackson
recently released his top 10 and the four-star defensive back is happy to focus in on a select group of favorites.
"It was nice cutting it down a little bit," Jackson said. "I just wanted to focus on those schools as I get closer to my decision."
And now the Elk Grove (Calif.) Franklin standout has also finalized his official visit schedule with upcoming stops at Notre Dame and Oregon as well.
A few days earlier, Jackson had set trips to Michigan, Oklahoma and Arizona State.
California, UCLA, USC, Utah and Washington will not receive official visits but the four-star standout said by no means are any of those programs eliminated from his top 10.
"Those schools that don't get visits are still in it," Jackson said. "It's just about where I think I would enjoy myself the most and where I would have the best experience.
"When I started scheduling them, I looked at the schedule and I figured out where I'd want to go because it would be a good game. I wanted to see the stadiums at their best, with the best environment and stuff like that."
Washington was most seriously considered for an official visit but Jackson decided against it favoring the Ducks and Irish instead.
Jackson will first head to Notre Dame for its season opener against Texas. Later in September, the four-star will head to Oregon (against Georgia State) and Arizona State (when it hosts USC).
When Oklahoma plays West Virginia, Jackson will be in Norman and his last trip will be to Michigan in mid-October when it hosts Michigan State.