Jackson-Daniel plans spring visits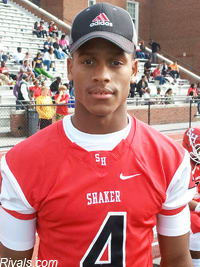 2012 was an injury-shortened season for Cleveland (Ohio) Shaker Heights wide receiver
Nolan Jackson-Daniel
, and his recruiting process has been slowed as a result. The 6-foot-1, 180-pound receiver hopes to give his recruitment a boost with a few spring visits, though.
"I have been invited to go visit Northwestern and Illinois," Jackson-Daniel said. "I am going over spring break to probably Bowling Green, Northwestern and Illinois."
An offer from Buffalo has already come in for Jackson-Daniel. Other schools are showing interest, but have been slow to offer.
"I am hearing a lot of stuff from Illinois, Northwestern, Michigan and Purdue," Jackson-Daniel said. "Penn State is too… they talk to me on Facebook and have written me letters. I have talked on the phone with the receivers coach from Penn State and they want me to see the campus. They said I could fit into the pro-style offense and like my size and ball skills."
Jackson-Daniel generated interest from several college programs after camp appearances this summer. One of those was Cincinnati, which went through a coaching change this winter.
"I would like to hear more from Cincinnati," Jackson-Daniel said. "I talked to the [coach] from there and went to their camp over the summer on the bus tour for Raw Talent. They have come into the school a couple times."
Jackson-Daniel is involved with indoor track now, where he is part of a 4x100 relay team that is currently ranked second in the state. He played just four games at wide receiver for Shaker Heights in 2012, catching three touchdown passes.