Instant Impact: The 10 best committed grad transfers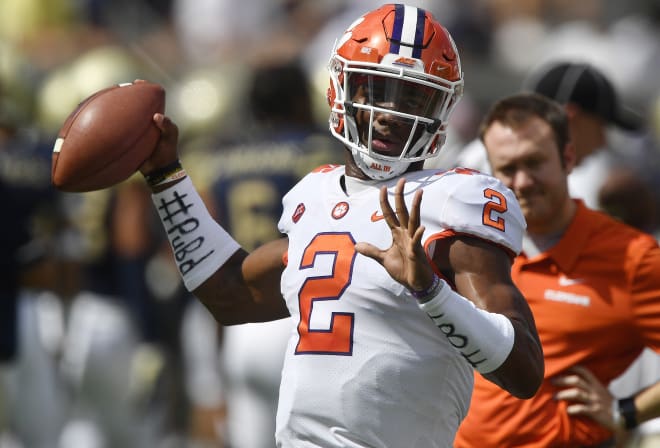 MORE: The 10 best available grad transfers
The Early Signing Period saw many of the nation's programs wrap up the bulk of their recruiting classes earlier this month, but signing high school recruits isn't the only way schools add talent these days. With transfer rules become more lax on a yearly basis, the number of graduate transfers continues to increase.

Several programs already have commitments from incoming grad transfers. Today we break them down and provide 10 of the most high-profile players on the move. National Recruiting Director Mike Farrell also weighs in on how each player might pan out at their new schools.
DARRION DANIELS -- OKLAHOMA STATE TO NEBRASKA 
As a recruit: Daniels' recruitment came down to Texas Tech, Oklahoma, Iowa and Oklahoma State and he chose the Cowboys just prior to Signing Day in 2015.
Career so far: Daniels had a very productive career with the Cowboys, accumulating 64 tackles and two sacks over four seasons. He was expected to be a major part of Oklahoma State's defense this past season, but his year was cut short due to an injury suffered earlier in the year. Rather than return to Stillwater, Daniels is transferring to Nebraska, where his younger brother Damion is a defensive lineman with the Huskers.
What to expect: "Daniels brings power and size to the middle for Nebraska and is a heady player. He won't wow anyone with big plays but he will help against the run for sure and take up blockers allowing others to run free. Instant impact defensive tackles are hard to find, so Nebraska has a good one here if he can stay healthy." -- Farrell

MANNY BOWEN -- PENN STATE TO UTAH
As a recruit: Bowen netted offers from more than 25 major programs and committed to Penn State during the summer prior to his senior year.
Career so far: Bowen quickly became a young star for Penn State, flashing as a backup during his true freshman year and building on that with a 67-tackle sophomore season. After turning in another productive year in 2017, Bowen ran into his share of off-field issues and was suspended prior to Penn State's bowl game following that season. Despite being reinstated and being the school's returning leading tackler headed into 2018, Bowen left the school prior to the start of the season and later announced his intentions to transfer to Utah.
What to expect: "If he can keep his head on straight, he's going to be a star in the Utah defense because he's physical and can cover so much ground. He played better at Penn State than I expected, at least so early in his career, and he's a great fit in the Utah scheme. This won't get as much notice as an offensive transfer, but it could be one of the most important transfers of the year." -- Farrell

KELLY BRYANT -- CLEMSON TO MISSOURI 
As a recruit: Bryant's recruitment took off after he transferred high schools and boiled down to Florida and Clemson. The chance to stay close to home and play for the Tigers was too much to pass up and Bryant committed during the spring of his junior year.
Career so far: Bryant started his career as a backup to Deshaun Watson and surprisingly beat out five-star Hunter Johnson for the job to replace Watson following the Tigers' National Championship season in 2016. Bryant stepped in and led Clemson back to the College Football Playoff. He finished the year with 2,802 yards passing, 13 touchdowns and eight interceptions while completing 65 percent of his passes. He also ran for 665 yards and 11 scores. Bryant started the first four games of the 2018 season for the Tigers before being replaced by five-star true freshman Trevor Lawrence. Bryant elected to transfer, and after visiting several programs, picked Missouri earlier this month.
What to expect: "Bryant should do well at Missouri and they will obviously change their offense a bit to accommodate his running ability. He has big game experience and was improving as a passer when Lawrence took his job. If he can continue to improve his downfield vision, he could be tough to stop with his athletic ability. Missouri has a creative offense and will allow him to shine." -- Farrell

JALEN HARRIS -- AUBURN TO COLORADO 
As a recruit: Harris elected to stay close to home and committed to Auburn over Kentucky, Texas A&M and several other major programs during the summer prior to his senior year of high school.
Career so far: Harris saw playing time right away at Auburn, appearing in 12 games as a freshman and playing steadily ever since. Unfortunately, that time on the field didn't include many opportunities in the passing game as he caught just four passes for 33 yards and two touchdowns in his three-plus seasons. After a slow start to the 2018 season, Harris announced his plans to transfer. Earlier this month he announced his commitment to Colorado.
What to expect: "Harris is a big target and can run so I think he'll be better suited in the Colorado offense than he was at Auburn where he was overshadowed a bit. Colorado throws the ball around a bit more and should utilize his skills." -- Farrell

JONATHAN NANCE -- ARKANSAS TO MISSOURI 
As a recruit: Nance initially signed with Southern Miss out of high school at a member of the class of 2015, but attended junior college instead and ended up signing with Arkansas in 2017.
Career so far: Nance stepped right into playing time in Fayetteville, catching 37 passes for 539 yards and five touchdowns in 2017, both totals led the Razorbacks on the year. He opened 2018 as a starter but the ball didn't find him as the team struggled out of the gate and he caught just one pass for minus-2 yards before announcing his plans to transfer. He committed to Missouri the same day as Bryant earlier this month, with the two hoping to finish their career in style together.
What to expect: "Will we see the Nance of 2017 or will he make a minimal impact? That's the big question as his talent is unquestioned. Missouri throws the ball around quite a bit but with Bryant at the helm, things could change a bit. I think he'll have a solid year at Missouri but his impact will depend on the development of Bryant." -- Farrell
JARED SOUTHERS -- VANDERBILT TO GEORGIA TECH
As a recruit: Southers committed to Vanderbilt, his lone Power Five offer, two weeks before Signing Day in 2015.
Career so far: A versatile player along the offensive line, Southers was a regular contributor during his time at Vanderbilt. He started four games during his sophomore year and played in 27 total games while playing tackle, guard and even some tight end. After announcing his transfer, he initially committed to Temple, but when Geoff Collins took the job at Georgia Tech, Southers elected to follow him to Atlanta.
What to expect: "Southers is an athletic kid and has good experience, so I expect him to be penciled in as a starter somewhere along the line. His versatility is key and an added bonus and should make sure he makes an impact next season." -- Farrell
RILEY NEAL -- BALL STATE TO VANDERBILT 
As a recruit: Despite impressing at several different camps, both on and off campus, Neal never picked up any Power Five offers and committed to Ball State over Central Michigan during the summer prior to his senior year.
Career so far: Neal Stepped right into the lineup as a true freshman at Ball State, throwing for 2,276 yards with with 16 touchdowns and six interceptions. He never really looked back after that, with his lone hiccup coming in 2017 when he was limited to just three games due to injury. As it turns out, that's why he's eligible to grad transfer. Despite throwing for 7,393 yards and 46 touchdowns, Neal elected to transfer to Vanderbilt rather than return to Ball State for a fifth season. He's expected to compete for the starting job to replace the departing Kyle Shurmur.
What to expect: "Neal is a great pickup for Vanderbilt because he brings a lot to the table. He has excellent pocket presence, he knows when to step up to avoid pressure and he can throw on the run. The SEC is a big step up in competition for him, but he's a real sleeper when it comes to transfers." -- Farrell

NATHAN ELDRIDGE -- ARIZONA TO OREGON STATE
As a recruit: Eldridge committed to Arizona over Arizona State and several FCS options just prior to the start of his senior season.
Career so far: After redshirting his first year on campus and moving to center, Eldridge became a key cog in the Wildcats' offensive line, starting every game as a redshirt freshman in 2016. That trend continued in 2017, when started all 13 games at center and was named to the Pac-12's all-conference honorable mention list. Heading into 2018, he was on the watch list for the nation's best center award, but he ended up missing the entire year with injury. Rather than return to Tucson, Eldridge announced his plans to transfer to Oregon State earlier this month.
What to expect: "Oregon State is getting an experienced and very heady center in Eldridge who should be a plug-and-play guy. It's hard to develop centers as the leader of the offensive line, so to land one as a grad transfer is a big deal for the Beavers." -- Farrell
JAMES GILBERT -- BALL STATE TO KANSAS STATE
As a recruit: Gilbert initially committed to Western Michigan but didn't stay pledged the Broncos for long and flipped to Ball State less than two months later.
Career so far: Gilbert had a very nice career for Ball State, seeing the field as a freshman and breaking out as a sophomore in 2016. That season, he rushed for 1,332 yards and 12 touchdowns and was named first team all-conference. An injury limited him to just three games in 2017 but he returned to form in 2018, rushing for 659 yards and seven touchdowns while also catching 15 passes. Rather than return to Ball State for a fifth season, he announced his plans to transfer to Kansas State earlier this month.
What to expect: "Kansas State loses three running backs and have very little depth at the position, so Gilbert is a big deal and he should be the go-to guy right away. He could be a 1,000-yard rusher for them next season as well as catch a few passes. He's an instant impact guy at a key positional need." -- Farrell

TOMMY KENNEDY -- BUTLER (FCS) TO MIAMI 
As a recruit: Kennedy didn't have much more than a Rivals.com profile as a recruit and he committed to FCS program Butler as a walk-on in 2015.
Career so far: After spending his first two years at Butler as an afterthought, Kennedy emerged as a starter for the Bulldogs as a redshirt sophomore in 2017. In 2018, he continued to hold down his starting position and was named second-team all conference for his efforts. Kennedy drew recruiting interest from several major programs, including Oklahoma, Texas and Florida State but he committed to the Hurricanes earlier this month.
What to expect: "Miami needs offensive linemen and needs them badly, so to win the battle for Kennedy was huge. He's physically ready to step in and start and should adjust well to the rise in competition." -- Farrell