Indiana and K-State could be next for shot at 3-Star QB Chris Herron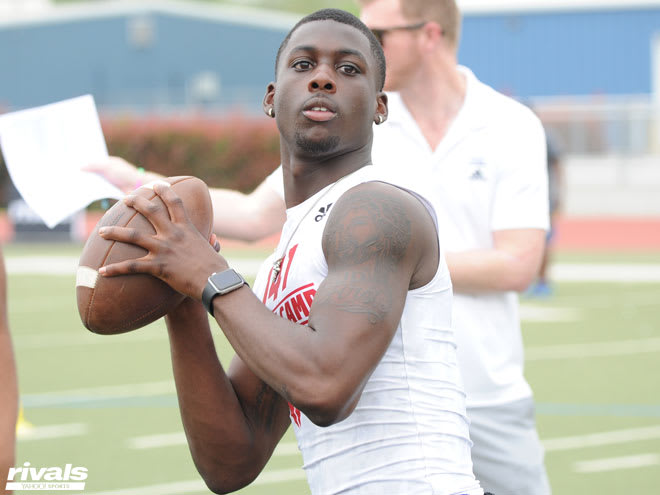 HOUSTON, Tex. -- Prior to the commitment of four-star quarterback Max Duggan to TCU, three-star dual-threat quarterback Chris Herron had planned to take one of his officials there.
Now, that could be up in the air, but it seems as though there is an opportunity for another team to swoop in and make a big move for him. Herron said that Indiana was a team he would like to take an official to as well, but wasn't sure which other teams would have been in line for him to take another one or two before the end of summer.
"They are starting to push a lot harder now," he said. "Now that things are winding down and we're starting to get close to the new season, people are starting to push a lot harder."
One team that could find themselves on that shortlist is Kansas State, who offered Herron just shy of two weeks after the Horned Frogs. While he's working on moving things forward with the Wildcats, he's mindful of 2018 QB signee John Holcombe's decision to go there and what that says about the program.
"We have a nice little relationship," he said. "I haven't talked to him much about him committing to the program in general, but I know he wanted to go somewhere that was going to benefit him in the long run as well. I trust his opinion on the school as far as him being committed."
IN HIS WORDS
More on Indiana
"We talk just about every day," he said. "I get a picture from morning practice every day - or they're messaging me a quote. They have been in contact with me a lot, but every team has their own ways of communicating, sometimes through Twitter, sometimes on phone or FaceTime."
More on Kansas State
"I'm starting to build a relationship there," he said. "We're getting a conversation in at least once every week when possible, so I can see a bond starting to build there."
On his relationship with offensive coordinator Andre Coleman
"He likes that I can just be versatile, being able to create plays and keep my eyes downfield," he said. "There's basically a few things inside of my game that would help inside the offense they run."
RIVALS REACTION
Herron has a lot of arm talent, and isn't afraid to sling it as a passer. So far this spring, he's been very active on the camp and 7-on-7 circuit, showing off just how much he can put on the ball. He does take some chances with his throws, but with a little more patience and work on reading defenses more consistently, he could be a very dynamic quarterback in college.