Impressive list of early offers for DT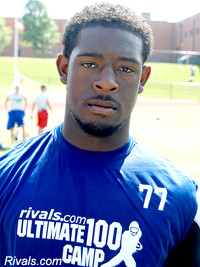 Derrick Mitchell
is one of the top defensive line prospects from the Sunshine State in the Class of 2011. Mitchell, 6-5 and 285 pounds, is from Jacksonville First Coast High School. He had a monster junior season, manning the defensive tackle position where he recorded 75 tackles, 19 tackles for a loss and nine sacks.
"I am a much more versatile lineman than people think," Mitchell said. "Maybe it's because of my size. I am big and have a good speed and strength. I also have a good variety of moves."
Teams have certainly taken stock of this rising senior. He know has some pretty impressive scholarship offers.
"Florida State and Florida International offered me both on the first day. One came to the school and the other came to the house. South Carolina, North Carolina, Clemson, Illinois, Georgia Tech and Alabama have all offered me. In fact, Alabama was my last one. That was a very exciting one. I mean the national champs offered me and I feel like I am now one of the elite prospects out there."
Mitchell will make a visit this coming weekend. It's to the school he dreamed of playing for.
"I am going to go to the Florida State junior day this coming weekend. I grew up a big fan and always wanted to play for them. They came by my school last fall. I like what I see with the new coaches. I now they will compete for some championships.
"I have already been to Georgia Tech. They have great academics. I also love the campus, facilities and the city of Atlanta.
"I know that I also want to visit Clemson and Alabama. Right now I am just weighing all my options. I know that I have a lot of time to choose. Playing time, schemes, coaches and feeling comfortable are all important things to me."
Click
Here
to view this Link.
Click
Here
to view this Link.