Impact Analysis: Dee Beckwith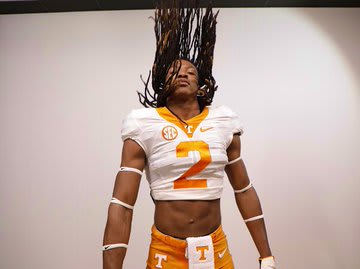 Tennessee landed one of its top remaining priorities in the 2020 class on National Signing Day, as 3-star athlete Dee Beckwith chose the Vols over Florida, Auburn, Kentucky and others.
Down the stretch, Tennessee and UF have mainly battled for the versatile playmaker from Florence, Ala., with Jeremy Pruitt getting the final in-home visit and Beckwith making his way back to Knoxville unofficially on Sunday just before the dead period.
Beckwith, whose half-brother Camryn Beckwith is a preferred walk-on pledge with the Vols, becomes Tennessee's 22nd signee in the class.
Here's a closer look at what his addition means…
SCOUTING REPORT
"Dee Beckwith is obviously a naturally gifted athlete. He's a two-sport guy. Clearly has passion originally for basketball, and on his basketball film, you can see a guy running the court, elevating and an (ability) to slide his feet side to side. That all transitions over to football.
The biggest thing for me with Dee is he will transition that same passion for basketball onto the football field. He loves basketball, and that is known. He's made that clear. But he's very talented at football as well. He has the size and skill-set to be used in multiple ways from a big receiver to a flexed out tight end. He can create mismatches. Some teams even liked Dee as a stand-up linebacker and others talked about him as a big safety, and that tells you what kind of athlete he is. Dee played a lot of quarterback in high school, so obviously he'll have to take some time to develop into what Tennessee wants to use him in, which is probably more of a flex tight end role in the SEC.
We know he can run. We know he has good ball skills and can go up and get the football. He obviously has to expand his route tree and develop separation, and work on his blocking — whether that's on perimeter blocking or in-line blocking. Just the little things. But I really like the upside. He has the frame and the skill-set to really be a gem in this class for Tennessee just because of his natural athleticism. It's a great take and great get for Tennessee to beat out Florida and other schools for a guy with his potential down the road.
— Chad Simmons, Rivals Southeast Analyst
HOW BECKWITH WILL FIT WITH THE VOLS?
Part of the reason Beckwith chose Tennessee over Florida was offensive coordinator Jim Chaney's plan on how he wants to use the Alabama athlete.
At 6-4, 215 pounds, Beckwith mostly played quarterback at Florence, showing an ability to make plays in space with his feet as a runner and passer. He flexed out wide at times, too, catching multiple touchdowns including a 75-yarder where he smoked a safety from the slot.
"He's the freakiest athlete I've coached in 20 years," Florence head coach Will Hester told Volquest.
"He could play any spot on the field outside of the offensive and defensive line. He just competes. When the ball is in the air or the tip is thrown, he rises to the occasion."
With the Vols, Beckwith will be used as a Swiss Army Knife, lining up at receiver sometimes, flexing out as a tight end on some plays and even lining up as a true H-back on certain downs. He has the frame to add more weight if necessary, and all his time on the hardwood has really helped Beckwith's footwork.
The 3-star has only played two years of high school football, so he'll need some seasoning before he will be counted on at Tennessee, but down the road he projects as a legit offensive weapon capable of creating mismatches from various spots.
"He's never really focused a ton on football," Hester said.
"No one knows what his ceiling is because he hasn't played it that long. He's never had the opportunity to focus on his craft because he played so many sports and would go from one to next. I look forward to seeing how Tennessee can elevate his game."
WHAT DOES BECKWITH'S COMMITMENT MEAN FOR TENNESSEE?
The Vols didn't land a traditional tight end this cycle after missing out on 5-stars Arik Gilbert and Darnell Washington, so it was critical that they received a pledge from Beckwith, who as outlined above, can at least play some at tight end.
Beckwith becomes the seventh playmaker in the class, joining duel-threat quarterback Jimmy Holiday and receivers Jalin Hyatt and Jimmy Calloway, as well as tailbacks Jabari Small, Tee Hodge and Len'Neth Whitehead.
Depending on what happens later Wednesday afternoon, Beckwith could be the final addition to Tennessee's 2020 class, too. The Vols continue to try and flip 4-star wideout Malachi Wideman from FSU, with Ole Miss and Oregon in the mix, and the saga for 5-star tailback Zach Evans is likely to continue until the spring.
If Beckwith is the last true signee for the Vols, then Southern Cal grad transfer wideout Velus Jones would count toward the 2020 class instead of holding that number for 2021.