Illinois first to offer 2015 DT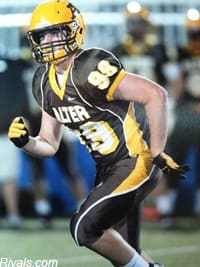 Kettering (Ohio) Archbishop Alter class of 2015 defensive tackle
Kraig Howe
had hoped to generate offers with his play as a junior. He was surprised when his first BCS offer came through on the first day of camp preparing for that junior season.
"I was talking to Coach [Alex] Golesh from Illinois on the phone and we had a conversation about football in general and where I visited this summer," Howe said. "Then, he told me the coaching staff watched my tape and said they wanted to offer me.
"It was kind of unexpected and a pleasant surprise. It is a good feeling and kind of hard to describe. Hopefully this is just the start of it."
Illinois coaches had been through the school back in the spring and Howe was receiving mail from the Illini. He has a basis of familiarity with the program, but is looking forward to evaluating it closer during the course of his recruitment.
"Illinois is a Big Ten school and a great school academically," Howe noted. "I haven't visited their campus yet, but I plan on getting up there in the fall. I am excited to see the campus."
The 6-foot-3, 253-pound Howe has played tight end, linebacker, fullback and defensive tackle during his career at Alter. He did not discuss where the Illini project him, but is returning to his position on the defensive line this fall.
Howe also plays basketball during the summer, and an injury kept him from participating in college camps. He was able to get down to Kentucky and Ohio State in the month of July to watch their camps, though.
"For Kentucky I went down for their Friday Night Lights and got some really good instruction," Howe said. "I am new to the position and still getting accustomed to the position, and Coach [Jimmy] Brumbaugh knows a ton about the game.
"I'm an Ohio boy and have been to that stadium many times, so going to the Horseshoe and looking up into the stands was an unreal feeling. Even though I couldn't participate I think it was worthwhile for me to go and just listen to the technique and instruction."
Other schools that have been sending regular mail to Howe early in the process include Northwestern, Arkansas, Indiana and Pitt.