Howe ready to hit the road again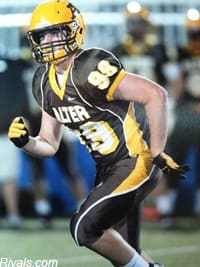 Kettering (Ohio) Archbishop Alter 2015 defensive tackle
Kraig Howe
is ready to see more schools this spring after making a tour of several schools for game visits this past fall.
"I went to several schools in the fall to see their games and I picked up a lot of different atmospheres," Howe said. "It was a fun experience. I love college football, so being able to watch the games with other recruits was awesome. I got to think of this not as a dream, but as what is going to happen in the future."
One school Howe made multiple visits to was Pitt. The Panthers are one of four schools that have already offered the 6-foot-3, 253-pound prospect a scholarship.
"I went to Pitt twice so I picked up two different atmospheres - one day game and one night game," Howe said.
"I loved Pitt ever since I started talking to Coach [Joe] Rudolph. Learning what they are about, the kind of players they recruit and what they stand for as a staff and a team - I am all for that. I love coaches wanting character as much as ability. The staff, I believe in them and they believe in me too."
Howe also made visits to Illinois, Indiana, Ohio State and Kentucky for games in the fall, and is looking to get back on the road again soon.
"I would love to go to some junior days, but right now I am in basketball season," he said. "It is tough getting out there having games three times a week sometimes. After basketball season dies down, I plan on getting back out there and making some visits for junior days."
Besides Pitt, Howe holds offers from Illinois, Miami (Ohio) and Toledo. He has seen new interest come his way since his junior season ended.
"I have been in contact with Northwestern a little bit more," Howe said. "They are still wrapping up the 2014s, and I know some other schools are too. I gave their d-line coach my film to go over with the d-coordinator and the head coach. They're going to get back to me soon and I think they are going to try to make it down to school sometime soon."
Howe is rated as a three-star prospect and ranked as the No. 29 player in the state of Ohio's 2015 class.