Howe goes in-depth at Northwestern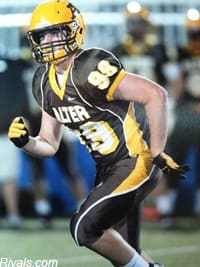 Three-star defensive tackle
Kraig Howe
called it a "great day," when he was offered by Northwestern back in January. This week the Ohio native made it back to Evanston to check the program out further.
"Since they offered, this is my first time being up here," Howe said. "I was up here during the football season when they played Ohio State. It was great seeing all the coaches, having meetings with Coach [Marty] Long and Coach Fitz. My parents were able to get to know them a little more on a personal level."
The visit, which took place on Wednesday and Thursday of this week, also gave Howe the student-athlete perspective of the school.
"They matched me up with
Ifeadi Odenigbo
, so that was cool hanging out with another Dayton kid," Howe said. "He mentioned how at Northwestern the team is focused on a common goal - succeeding at football and succeeding academically as well. The focus in the locker room, meeting rooms and classroom all [builds] team chemistry."
Although he had been on campus previously, this week's visit gave Howe a closer look at the future of the Northwestern football facilities.
"We talked a lot about the new facilities coming in," he said. "Coach [Chris] Bowers took us on a tour and showed us where it is all going to be, so that was really exciting. Their facilities are nice how they are right now, but they are just going to get better."
Howe and his parents left Evanston Thursday evening and drove to East Lansing where they will visit Michigan State on Friday.
"I've been talking with Coach [Harlon] Barnett and he said he would love to get me in front of the rest of the staff," Howe said. "He said he loved my film and the staff liked what they saw. I'm not sure what to expect, but I am excited to see the campus."
The Kettering (Ohio) Archbishop Alter defensive tackle now holds seven scholarship offers. He is ranked as the No. 33 defensive tackle in the country and No. 31 player in the state of Ohio's 2015 class.