Houston prospects weigh in: Who will win a title first, Texas or A&M?
CLASS OF 2019 RANKINGS: Rivals250 | State | Position | Team
HOUSTON -- Even though Texas A&M and Texas no longer play in football on a regular basis, the rivalry between the two schools on the recruiting trail is as heated as ever. With both programs making splash coaching hires over the past two years, we surveyed recruits at the recent Houston stop of the Rivals Camp Series presented by adidas to find out which coach they think will lead his program to a national championship first: Jimbo Fisher or Tom Herman.
RELATED: Top Houston prospects make college predictions for each other
JIMBO FISHER 
"Jimbo. He's been there before, and I think that helps."
"Jimbo. Just because he's coming into the SEC, and that's the best conference and nobody can match that."
"I think Jimbo Fisher is going to change the program around. He is a great coach who has won and I see him changing things around big-time."
"I have visited A&M and it is live. Plus, Coach Fisher is a good coach, so I would have to go with them. I know Fisher won at FSU, so he can do it (at A&M), too."
"I think Texas A&M can win under Fisher. He is a cold coach who wants to win. He is aggressive and he has won before."
"Texas does have a nice defense coming in, but A&M is getting like all the top offensive players. Offense wins games, so I feel like it's going to be A&M."
"I'll pick Fisher. Herman is getting a whole bunch of young guys, and it's going to be hard to develop those new guys. There is a whole bunch of talent that's going there and I know not all of them are going to get to play right away, so it's going to be hard to pick who should start.
"I know Fisher is going into a new program also, but he's already won a championship."
"I think Jimbo Fisher will win first because, I don't know - he's won it before, so I think that's it."

TOM HERMAN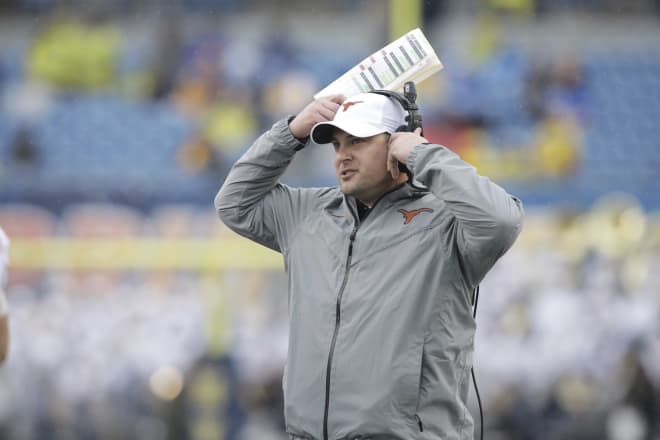 "I think Tom Herman because I known Brennan Eagles and they have a strong 2018 class coming in. When (Herman) was at Houston he was going to big bowls, so being at UT and having all those cats, I think he's going to be the guy."
"Tom Herman. I don't like the Aggies."
"Tom Herman. He recruits a little better and he gets better players and I think he can coach them well."
"Tom Herman. I think Texas is going to win it first. He is getting everyone to go there, so I think he is going to get top recruits and win it first."
"Tom Herman really interacts with the players and the families, so I think he will get top recruits and he really has a winner's mentality."
"Texas just signed a crazy class in 2018 and I think they will win a championship first."
"I have to say Texas wins it all first. They get a lot of top recruits, they have a lot of guys that can go to the NFL and I see them winning it first. "