Hokies flip UVA four-star OL commit Brody Meadows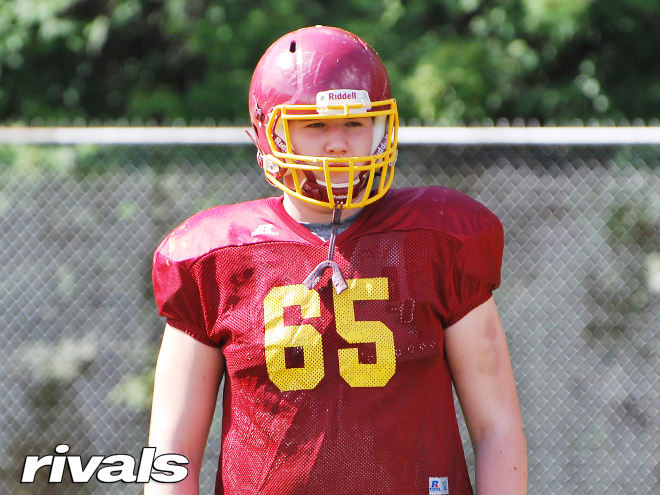 Four-star Brody Meadows had a relatively uneventful recruitment but coaching changes have a way of throwing a wrench in a recruit's plans. The star offensive lineman out of Bluefield (Va.) Graham picked up his fair share of offers early in the process and, after a few visits to schools like West Virginia, Virginia, and Virginia Tech, he announced his commitment to Virginia.
The sudden and surprising announcement by UVA head coach Bronco Mendenhall to step down at the end of the season changed everything for Virginia commits and Meadows became the target of many schools looking to add reinforcements along the offensive line.
Virginia Tech and new head coach Brent Pry immediately pursued Meadows and they were able to convince him to flip and sign with the Hokies.
IN HIS OWN WORDS...
"Honestly, the past two weeks have been rough," Meadows said. "I was met with a great opportunity to come to Tech, which is only 45 minutes from my house. I love what the new coaches are doing up there. I love the facilitates. It truly felt like home when I stepped on campus.
"The coaches are all Virginia Tech guys," he said. "They all either played there or coached there. That really stood out. They love the school and the area. Outside of football, there is another life and they make sure that you live that life as a blue collar worker. It's just like where I'm from surrounded by the mountains in southwestern Virginia.
"It's the first class under coach Pry and it's like a new beginning at Tech," said Meadows. "I feel like we're going to take Tech to the ACC Championship one day."
RIVALS' REACTION...
A coach's first recruiting class is critical to lay the foundation for the future. Brent Pry and his staff are in position to sign a very solid group of prospects this week and flipping Meadows away from their in-state rival has to be sweet on multiple fronts. Meadows brings a lot to the table as a prospect and he should turn into a regular contributor after a year or two with the strength and conditioning staff. It's incredibly important to have depth on the offensive line and Meadows should also help in that area. On top of that, keeping an important in-state prospect away from your rival is always a top priority and the Hokies did just that with Meadows.