Hilinski breaks down decision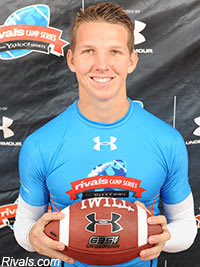 Tyler Hilinski
committed to Washington State in late April but then Cal came through with an offer and his recruitment got a little more interesting.
The Upland, Calif., four-star quarterback shut it down in the last week, though, and made a big statement that he's sticking with the Cougars.
"It didn't really have as much to do with Cal," Hilinski said. "It had more to do with Washington State.
"The more I thought about it the more I realized how cool of a place Pullman was and the experience I had up there with my dad, it was something really special. I really enjoyed it up there.
"It's a different kind of atmosphere and environment. I just felt like the coaches liked me a lot and I felt it was the best situation for me."
Offers came in slowly for Hilinski, rated as the No. 10 pro-style quarterback in the 2015 class by Rivals.com, even though he had an outstanding junior season where he threw for 3,053 yards with 34 touchdowns and eight interceptions. In total, Washington State, Cal and Utah State have offered so far.
So when Washington State offered him, the Upland quarterback took special notice. Then Hilinski developed a strong relationship with many of the coaches there and that was one of the driving factors in him staying committed.
His trip to Pullman also played a major factor.
"I wanted to go somewhere where I was really wanted," Hilinski said. "It wasn't one of those schools where they offered and I didn't hear from the coaching staff.
"The relationship I built with coach (Mike) Leach, coach (Ken) Wilson and coach (David) Yost, they've been out to my practices twice, I've been talking to them every week and pretty much talking to coach Wilson all day, every day.
"You're building a bond there and it's hard to break that up. I built something special and I can't wait to get up there."