Hicks adds Pitt to his list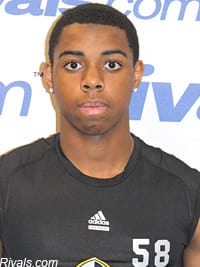 The first days of the Spring Evaluation Period have brought another new scholarship offer for three-star Solon, Ohio, cornerback
Darian Hicks
, bringing the 6-foot, 175-pound prospect to a total of 13 offers.
"[Pitt] came to my school today and I met their secondary coach," Hicks reported Monday night. "He told me to call him, so I did and they just offered about two minutes ago.
"I know that Darrelle Revis and Larry Fitzgerald went there. I have good interest in them."
The offer from Pitt joins previous offers from the likes of Boston College, Cincinnati, Illinois, Iowa, Louisville, Michigan State, Penn State, Purdue, Syracuse and West Virginia. He has visited a couple of those schools in recent months, and last week visited a school that is still evaluating him for an offer.
"During spring break I went to Ohio State to watch a spring practice," Hicks said. "They just say that they are going to hold off on offering me because they want me to come down to their one-day senior camp to see how I fit their defense."
Hicks also visited Illinois for a spring practice this month and plans one more visit to a Big Ten school this spring.
"I'm going to Michigan State the 24th for a spring practice," he said. "I'm excited about them and they still stand high on my list."