Hentges rolls with Tide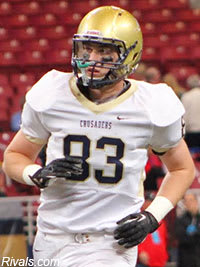 A standout at Jefferson City (Mo.) Helias High School, Hentges was deliberate. He simply collected more than 30 scholarship offers, took a look around on his own dime and choose a school. The ordeal, like the decision it yielded, wasn't complicated.
"I felt I didn't need to wait any long," Hentges said. " I knew in my heart that Alabama was the right place. It's going to work out great. I know it. I'm thrilled beyond belief. I'm looking forward to get to know my future teammates."
Hentges talked about fitting in with an offensive scheme in the weeks leading up to his commitment. That played a part - a major one. And while he says he "wanted to play in a pro-style offense with two tight ends," Xs and Os weren't the only draw at work. According Hentges, his decision to pledge his services to Alabama was rooted in relatioships. So, as cliché as it sounds, a certain level of comfort is what drew him into the fold.
Outside of that, the allure of the Crimson Tide is obvious.
Hentges alerted the Crimson Tide coaching staff of his intention to commit on Saturday night but waited a day before making the news public. The reaction to the news wasn't exactly shocking. After all, coaches tend to enjoy landing touted prospects even if they've long since gotten used to doing so.
"Coach Saban was really thrilled," Hentges said. "He welcomed me to the family. He wanted to tell my family that I would be taken cared of. He wanted to tell everyone that they got s good football player and an even better young man."
As a junior at Helias, Hentges caught 61 passes for 940 yards and 15 touchdowns. He's ranked as the No. 6 tight end in America and the No. 164 overall prospect in the class of 2015.
Hentges intends to attend multiple Alabama home games this season and does not intend to talk to other schools or take other official visits down the road.

[rl]