Hendrixs list continues to grow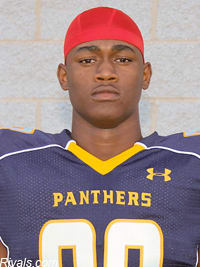 "I know a little about Kansas, but I don't know that much about Iowa State," Hendrix said. "One of the [Kansas] coaches came to my school a long time ago."
"I haven't visited them, but know a little bit about Florida," Hendrix said. "I know they have a great tradition of sending guys to the pros and I know they make a bowl game every year."
Handling his ever-growing offer list is nearly a full-time job for Hendrix, but spring visits should help him focus in on what schools are piquing his interest.
"The campus was beautiful and I didn't know they were going to offer me to the end," Hendrix said. "It was a surprise when they did it, and that was really good for me. I have a lot of family in Tennessee, too."
Of the schools that have offered, Illinois' campus is one of the closest to Hendrix's downstate Illinois home.
"I don't know if I would say [location] is a benefit for them, but I do like that school," Hendrix said. "At this point I like all of my schools, and haven't thought about where I want to go yet. I want to take visits and really take my time with it."
Hendrix is rated as the nation's No. 231 prospect in the class of 2014. He was a Rivals.com second team all-combine performer at the U.S. Army Junior Combine in San Antonio earlier this year.