Helmholdt's Mailbag: Touching on Penn St., Michigan, Ohio St. and more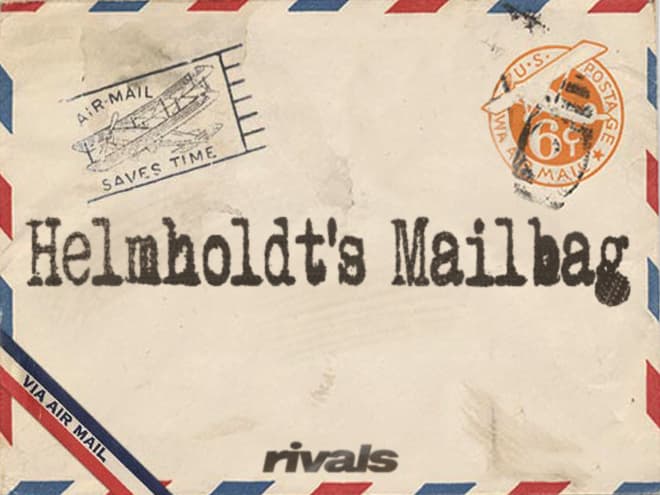 In the second year of an early signing period for FBS college football, recruiting fans have already acclimated and are gearing up for the final two months before 2019 prospects can sign. Rivals.com Midwest Analyst Josh Helmholdt answers questions from the fans ahead of the stretch run for the 2019 class.
MORE: Take Two on Clemson's recruiting efforts | Twitter Tuesday
Bell was the prospect most asked about in this exercise, and I picked this question because I think it will best cover all questions asked about the Rivals250 wide receiver from Indianapolis. So, let's get to it:
1) Purdue: I picked the Boilermakers for Bell earlier this season because a lot of the pieces seemed to fit with the home-state school, and for now I am sticking with Purdue at No. 1. But, I am less confident about the pick than I was six weeks ago. The next few schools are closing the gap, if one existed in the first place.
2) Penn State: No one with knowledge of this recruitment would have criticized you if you suggested Penn State would be the eventual pick for Bell any time over the last year. The Nittany Lions have been strong, legit contenders here for a long time, and they hit the right notes on his official visit last month. In the end, though, I get the sense they are going to just miss.
3) Indiana: It feels like there are three tiers in this recruitment, and this is the start of the second tier, which is definitely still in contention to land Bell. I would not have put Indiana this high at the start of the season, but the Hoosiers are rallying and have momentum on the recruiting trail right now. Indiana is scheduled to get a December official visit, and that's a good spot to be in.
4) Iowa: Looking at this recruitment objectively, Iowa has a lot going for it. Bell's teammate, Justin Britt, is committed to the Hawkeyes and his last official visit of the process is scheduled to Iowa City just days before he is expected to make his college selection. Subjectively, though, my gut feeling is a few other schools have a better shot here.
5) Ohio State: At times over the last year Ohio State was thought to be the team to beat in this recruitment, but the loss of receivers coach Zach Smith really seemed to stall this recruitment, and I do not see the Buckeyes being able to recover. I would not even be surprised if he did not end up going through with the scheduled Nov. 24 official visit to Columbus.
Before closing out this question it must be noted that there is a lot of recruiting yet to be done here and things are likely to change, or at least evolve, before a decision is rendered. Unless Bell cancels his remaining official visits and make a surprise early decision, the next seven weeks are going to have a major impact on which school he chooses.
Even though I just listed Purdue as the team to beat for Bell, I'd still set its chances at less than 50 percent. Let's give the Boilermakers a 40 percent shot, which may still be a little high.

Now, when it comes to Wright, I am not as well-versed on his recruitment, but I know Purdue is considered the team to beat there as well. And, it sounds like the Boilermakers' chances of landing Wright are probably above that 50 percent level.

But even if you give the Boilermakers a 60 percent shot in that recruitment, the chances they get both are less than one in four, and that's before you factor in whether getting one hurts or hinders their chances of getting the other. Getting one would help in getting the other, because great players want to play with other great players and wide receiver is a position where there are plenty of snaps to go around. Still, I would not going higher than one in four for them to land both.

This does not signal anything wrong with Penn State's recruiting. Yes, James Franklin and his staff traditionally have a prospect or two committed by this time, but it is never more than a couple, and zero is well within the bell curve of reasonable expectations. Penn State has over 100 offers extended in the 2020 class, so this does not reveal a change in strategy. And the Penn State brand remains strong, both in-region and across the country. I have said it privately many times - and even publicly a few times: Franklin is probably the best recruiting head coach in college football today. I have zero concern the 2020 class at Penn State will be among the best in the Big Ten - and the nation.

I can be a little slower in identifying young prospects than college coaches are. We will not rate 2022 prospects until well after their sophomore seasons have concluded, and their recruitments will not generate much attention for another couple years. That does not mean, however, that we are oblivious to the up-and-coming talent that is just arriving on the high school scene, and a few players have caught my attention already.
The Rivals.com database lists four 2022 Midwest prospects who have received scholarship offers from Power Five programs already, but each holds just one such offer. Of those four, the one I have scouted most is Centerville, Ohio, quarterback Chase Harrison. His older brother, Jacob Harrison, came out in the 2016 class and went to Navy. Right now, Chase is showing all the tools to be an FBS quarterback, and Louisville offering him early is a smart move.
Your memory must be short. Kentucky already has signed a five-star in the Mark Stoops era. His name is Landon Young, who was the No. 29-ranked prospect in the 2016 class, and would be the Wildcats' starting left tackle right now had he not suffered a season-ending knee injury in summer camp.
But, you said "future," so let me address whether Kentucky will sign more five-stars in the coming classes. One thing I can tell you about five-stars is they all want to be able to play for titles – definitely conference titles and preferably national titles. Things like early playing time and even scheme fit, to a degree, are not as big of an issue because they are five-stars – they are going to play … or at least they have every expectation that they will play no matter where they go. Why is Alabama able to sign five-stars every year while Kentucky has only signed one five-star in the Rivals.com era? Well, one major reason is the opportunity to play for titles.
This is why Kentucky's success on the field this season is so important. Recruiting has very evidently picked up from the Joker Phillips era, but in order for it to keep climbing the results have to translate to the field. While the record has steadily improved under Stoops, Kentucky has yet to be a realistic contender for an SEC title late into the year. After a 6-1 start, though, this could be that breakthrough season, and recruiting benefits would certainly be a result.

Losing seasons are sometimes better than winning seasons for recruiting. For years I have seen fans lament recruits being in the stands for losing contests, but when you talk to the recruits coming out of those games their take is completely different. The present only matters to a recruit in relation to its effect on the future. One loss, then, is insignificant in the bigger picture for the program, and even losing seasons can be positives if they reveal to a prospect an opportunity to come in and impact immediately.
Put yourself in a 2019 prospect's shoes: Do you feel the 2018 season portends a sub-par tenure for Scott Frost, or does it signal a rebuilding process at Nebraska? If this is a rebuilding process, then let me tell you, many prospects will jump at the chance to be a part of that. Yes, the high likelihood of playing for championships year-in and year-out at a place like Alabama has high appeal, but there are downfalls to that situation, as well, that often center on chances of seeing the field.

Feeling like you could be the missing piece that can turn a program around is very intoxicating, and it will appeal to a lot of top recruits. I do not see this season having an overall negative affect, and the ability for Frost and Co. to sell early playing time and chance to rebuild a blueblood program like Nebraska will attract a lot of top prospects.

Michigan's and Michigan State's classes are very similar in both make-up and overall talent level. Michigan State has the highest-ranked overall player in Rivals100 tackle Devontae Dobbs, and the overall upside of their group is higher, with Spencer Brown and JD Duplain having high ceilings. But Michigan has several guys with high floors who are closer to their potential level and thus present less risk. You know what you are going to get from guys like Nolan Rumler and Zach Carpenter, and they could easily be the anchor of Michigan lines for years to come.
Ohio State, meanwhile, has fewer commits than the Michigan-based schools, but has the higher average star rating. This could change after senior season film evaluations, but depth does hold value and Ohio State is obviously in need of more offensive line bodies in this class. For that reason, I would not pick the Buckeyes' class as the best among the three right now.

Comparing the team rankings points between Michigan and Michigan State it is a razor-thin difference, with the Spartans getting 499 from their offensive line unit and Michigan getting 494. I would call that a draw.

To your question about whose offensive line recruit is most underrated, I will say we have yet to do full senior film evaluations on any of these prospects, but if I had to project who was most likely to move up, I'd go with Ohio State offensive tackle commit Ryan Jacoby.
It's a good question, and if you have ever seen an interview with Harrison, you know that getting any kind of feel for where that kid is leaning is like pulling teeth. So, you have to play a combination of reading the tea leaves and keeping your ear to the ground.
This recruitment has been narrowed down to Michigan, Ohio State and Penn State, and official visits to all those schools were taken in the early period. I feel comfortable saying Penn State is sitting third right now, and although the Nittany Lions are not out of it, the trajectory of this recruitment would have to change for me to give them a strong shot here.
Meanwhile, there are strong arguments being made for both Michigan and Ohio State. The buzz coming out of Ann Arbor is very positive right now, especially after another good visit when Harrison attended its home contest against Wisconsin. And, Harrison has a close bond with Michigan commit Mazi Smith.

The case for Ohio State, meanwhile, is an easy one to make – hometown school, close to family, good connection with position coach Larry Johnson and that defensive line being an NFL factory.
I would caution against anyone arguing too strongly that either Michigan or Ohio State has this one in the bag, because I do not believe we have reached that point in his recruitment. If he knew where he wanted to go, Harrison would not drag it out because he does not crave the attention or drama. The chance this goes down to the end is high, setting up another situation like last year when the No. 1-ranked player in-state surprisingly spurned the Buckeyes, but this time around I think Ohio State wins out in the end.