Hanna considers official visits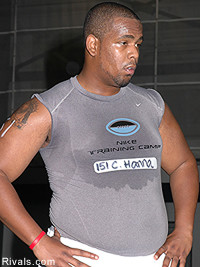 Offensive guard
Chris Hanna
out of Pittsburgh (Pa.) Gateway has Illinois as his leader. The Illini have gradually moved up the 6-foot-4, 302-pounder's list.
"I like their football coach, program and the letters they send me," he said. "The letters are messages of encouragement on the season and telling me to work hard, stay focused and do well in school. I really like that kind of stuff and it leads me on to them more. I also think their staff from Florida is a good one coming in too."
Two other schools the three-star prospect is looking at include Rutgers and Pittsburgh. Hanna remains without an offer from the Panthers.
"I got a verbal from Pittsburgh last basketball season, but I don't know what's going on with them," he said. "I don't know much about Rutgers either. They also send me letters of encouragement and a lot of handwritten letters."
Has the No. 45 offensive guard in the country begun to think about official visits?
"I was supposed to set one up with Illinois, but I got caught up with camp. I'm going to go there for sure though," he said. "I also want to go visit Virginia, Maryland, Rutgers and Ohio State. I like Virginia, Maryland and Ohio State's programs and I've been following them for a while watching them on TV. I like the way they play ball and I want to check them out since it's a free ride to go. They all are showing steady interest."
Hanna plans to take all five official visits this season.
The No. 26 player in Pennsylvania right now is preparing for his upcoming senior season.
"This team is coming together really well and we're focused, disciplined and understanding," he said. "We're also communicating with each other more and we're working well as a team right now. I'm looking forward to going to the championship and win it this year. Beyond that, my main goal is to graduate and get a Division I scholarship."
Hanna was named second team all-conference as a junior.