Griffen the Great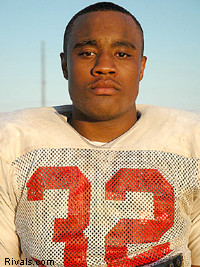 AVONDALE, Ariz. –
Log onto
Everson Griffen
's MySpace.com page and you'll see a picture of
Terrell Suggs
in the background sacking a Miami Dolphin quarterback.
Griffen is the highest ranked recruit to come out of Arizona since Suggs graduated from Chandler Hamilton in 2000, so it's only fitting that the five-star prospect idolizes the Baltimore Ravens sack master.
"It's a real honor to have people compare him to me," said Griffen, a 6-foot-4, 266-pound freak of nature that doubles as both a bruising running back and a defensive end at Avondale (Ariz.) Agua Fria.
"I still have a hard time believing I'm the top player in the state. The way I look at it, there is always somebody out there working harder than you. I have to work harder and harder to get better than that person. There has to be somebody out there working harder than you, and I don't want that to ever happen. But it still gets me excited to hear people talk about me like they talk about him."
The talk is legit, if you ask his coach.
"Everson is the real deal," Agua Fria coach Kelly Epley said. "He's big, he's strong and he's fast. He will be an impact college player for the team that's lucky enough to land him. He's the best kid that I've ever been around. He moves around so well for a guy his size."
He sure does – just like his idol.
In high school, Suggs also doubled up as a star running back along with hunting down quarterbacks. And when you watch Griffen on film, he explodes through would-be tacklers and off the line of scrimmage just like Suggs. At a recent combine the five-star standout clocked a 4.46-second 40-yard dash, something that's hard to fathom for a kid with his size and build.
As a junior, he carried the load for the Owls. He rushed for 794 yards on 142 carries for eight touchdowns. He also had 12 receptions for 168 yards and one amazing 71-yard reception where he out raced everybody for a score. On defense, he was double and triple-teamed but still managed 47 tackles, five sacks and three fumble recoveries.
"For college, I think I'm most likely going to play d-end," Griffen said. "Then if they want me to play a little fullback, too, I'll do that. It doesn't matter really. I just want to get a shot at playing big time college football."
Not bad for a kid that just started playing organized football as a freshman.
Griffen said he was always too big to play Pop Warner football, and when he arrived at Agua Fria he wanted to desperately get involved in football so he can finally show people he is a good athlete.
"I played flag football, and I was pretty good at that," he said. "But I was too big to play Pop Warner. I was big for my age, and I would have had to play up in the bigger divisions, so I never played. My freshman year I started playing, and I got good pretty quickly.
"I had to work a little bit, but it started coming on, coming on, and coming on."
Griffen said his work ethic and desire to become the best comes from his mother, Sabrina Scott. She's the one that has pushed him every day to become a star football player and even bigger star off the field.
"My mom is important to me," Griffen said. "That's my mom. She's always been there for me. My mom and dad aren't together, so she's the only person that has been there for me. Without her I wouldn't I be doing anything right now.
"She pushes me hard and makes sure that I get good grades. She stays on me about that. I get so sick of it. I'm like 'Mom, I got it.' I get so tired of it, but she means well for me and that's why I love her."
He also loves her because she gave him some good genes to work with. Griffen's mother has held the Agua Fria school shot put record for almost 30 years now.
"She threw the shot put 43-feet, 5 inches," Griffen said. "And she's encouraged me to get involved with as much stuff as I can. I do all the stuff. Most of the time, you can tell that I'm blessed with some good genes. I view sports as my way to get into college and get a degree. If I get good grades, pass the SAT and play football, I'll end up with a good degree and that's the most important thing.
"She definitely keeps me humble and grounded."
When Griffen was first interviewed last October, he admitted he was a little bit nervous about the recruiting process. He talked about how important his relationship with coaches will be in his decision and how he wants to get a degree in business, so he can be a success in life if things don't work out in football.
Early in the process three teams have semi-distanced themselves from other schools.
"UCLA, USC and Arizona are my three favorite schools," Griffen said. "I like all three coaching staffs and their programs. I'm not going to make an early decision. I'm going to wait until I make my official visits first. I would say my top five are USC, UCLA, Arizona, Oklahoma and Michigan, but that top five is a fluid situation.
"As more offers come in, of course that could change but right now I like those schools. I will probably wait until after my senior season to make my decision."
And just like when Suggs was recruited, there is tremendous pressure for him to pick one of the two in-state schools. Arizona seems like the best in-state bet at this point and much like Suggs did for the Sun Devils, local high school coach think he's good enough to help Mike Stoops' program turn the corner.
"When Terrell was at Arizona State, everybody in the country knew about the team because of him, and he helped them win a lot of games," one local high school coach said. "Everson could be that type of kid for Arizona, if he chooses to do something similar to Terrell. He's good enough to help put them on the map."
This might be the one thing that Griffen does different than his idol, as only time will tell whether or not he heads out of state or stays home.
But in the end the comparisons between Griffen and Suggs will be linked together forever in history, especially if the humble freak of nature from Avondale makes it big in college and the NFL someday.