Graham down to five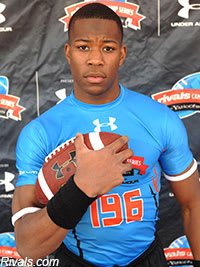 South Carolina: "South Carolina, is a great program. They're rebuilding, and they've been recruiting me hard ever since they offered me. I feel like I can go in the offense and compete and I really like that coaching staff."
TCU: "TCU, has a great offense, productive. You know they're coming up in college football. And I feel I can go there and compete because all of there receivers are leaving. I feel I can go in and compete for a spot."
Arkansas: "That was the first school to offer me, and I feel like they need receivers. With the new offensive coordinator I feel like I need to watch a couple of more games, but the new offensive coordinator plans on throwing the ball around a lot more so I feel like I can go there and play right off because they don't really have that many receivers."
Tennessee: "Tennesssee is another great program and I love their coaching staff. That's also a spread school and I want to go somewhere where they're throwing the ball. I really like their offense."
Miami: "hey have a great 2016 recruiting class and I feel like with the quarterback they're bringing in their offense is going to be real productive. I'd love to be a part of that."
Graham is waiting until he is able to take his official visits before naming his favorites. He will take his first official visits to South Carolina, Tennessee, and Miami since he has already had a chance to visit Arkansas and TCU. He does plan to take official visits to Arkansas and TCU.
South Carolina is the only official visit he has scheduled. He plans to visit Columbia the weekend of October 9, when the Gamecocks host the LSU Tigers.
Graham would also like to make his college commitment in October, and he plans to graduate in December and enroll at his school of choice in January.
He may not be ready to declare a leader among his top schools, but he does have a few things he will be watching in 2015 as he begins to close in on his college choice.
"Basically I want to go to a productive school I feel is growing in college football and is also throwing the football around," Graham said. "I want to go to a school that is airing the ball out. I don't want to go to a running game school where I really won't get as many passes as I should."