Grad transfer QB Kelly Bryant recaps visits to Missouri, Auburn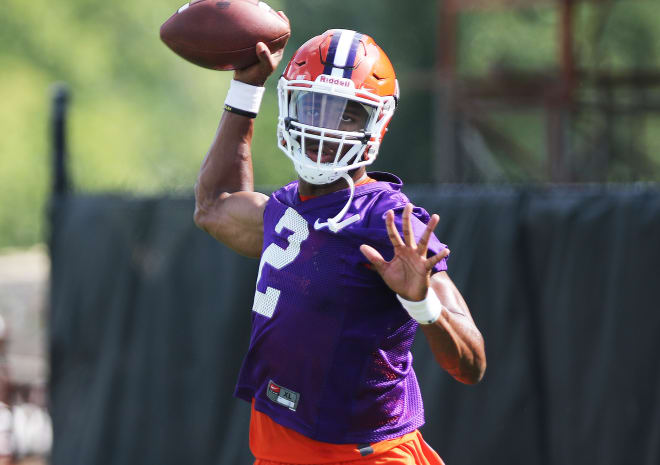 It's been a hectic few weeks for former Clemson quarterback Kelly Bryant as he continues to weigh his options for his fifth and final year of eligibility. After officially visiting Arkansas in mid-October, Bryant followed that up with an official visit to Missouri, followed by an unofficial visit to Auburn earlier this week.
"I'm still trying to talk to more schools and make sure I get this right," Bryant said. "I need to make sure I establish the right type of relationship and make the right choice. The end of November is my goal to make a final decision."
Bryant will officially visit North Carolina this weekend and follow that up with a trip to Mississippi State the following weekend, leaving him one more available official visit.
"I want to have all my officials done before I make my decision," Bryant said. "We'll see who gets the last one."
As far as which program leads at this point in the process, Bryant isn't revealing any secrets, but did say Missouri made quite the impression during his time in Columbia over the weekend.
"I definitely liked it," Bryant said. "Looking at the surrounding pieces that they have coming back on both sides of the ball; it's a balanced offense with West Coast elements, spread elements, run-pass option and things I'm used to and things that will help prepare me for the NFL. Being able to go in there and learn and get better for a year would be a great opportunity."
Bryant said he had chance to meet with current Missouri quarterback Drew Lock and the two bonded and had a great conversation about what Bryant would need to do in order to be successful at Missouri.
"Drew and I had talked a little before I got there," Bryant said. "But sitting down and talking with him Friday about everything, he really brought more comfort to me. I feel like it could be the right place for me."
Missouri offensive Derek Dooley, who spent five seasons with the Dallas Cowboys before taking over as the Tigers offensive coordinator this year, also has Bryant's attention with his plans on how to use Bryant.
"That stood out to me," Bryant said. "It's Dooley's first year first year putting the offense together and Drew had to learn it quickly. Seeing how quick he picked it up and where he's at, I know if he can do it and learn in under a a year that gives me more confidence I can do the same thing. Looking at it from that standpoint, it checked all my boxes in terms of what I'm looking for in a program, both with football and with my master's program."
As far as Auburn, Bryant said his trip to campus brought back old memories of his days as a high school recruit.
"It was good because It's kind of crazy how things come full circle," Bryant said. "In high school I camped there, went to junior day and everything and that was one offer I always wanted. Justing having the opportunity to sit down and talk with Malzahn and the coaches, it was really good to get down there and just listen to see what they have to say and what I would be walking into. I'm in the works of planning my last official visit out and it might be there if we can get it worked out."
Bryant plans to make his decision at the end of this month so he can enroll at the school of his choice in January. He has one season of eligibility remaining.