Gorney's Takeaways: Highlights from Mater Dei-St. John Bosco clash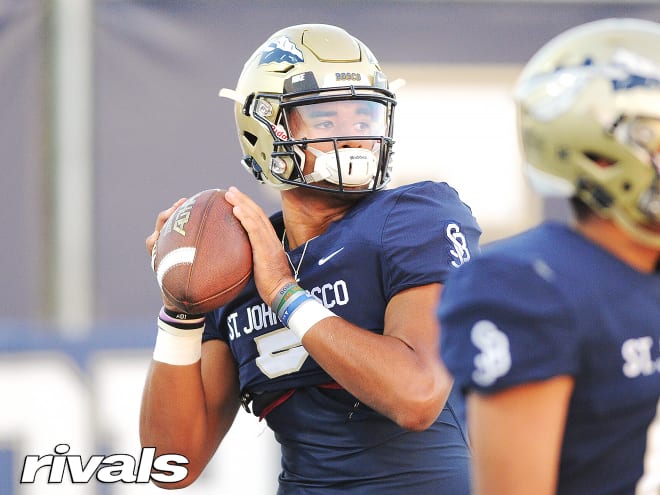 MORE: Breaking down the top targets for top-10 teams in the AP Top 25
SANTA ANA, Calif. - In a match-up of arguably the top two high school teams nationally that was postponed to Saturday night from Friday because of a lightning storm, Bellflower (Calif.) St. John Bosco beat Santa Ana (Calif.) Mater Dei, 41-18. Here are thoughts on some top performers.
The No. 1 player in the 2020 absolutely backed up his ranking on Saturday night dissecting an excellent Mater Dei defense, especially in the first half as Bosco racked up the points. Uiagalelei has one of the strongest arms I've seen in recent memory but what he's added to make him even more special is he can now put touch on the ball, which allows him to throw every route possible. The 6-foot-4, 235-pound recruit also showed off his running ability when needed. Clemson quarterbacks coach Brandon Streeter was in town on Friday night. The Tigers and Oregon are two early favorites.
The five-star cornerback is physical on the outside, aggressive, tenacious and he was solid throughout Bosco's win, not giving up much room and on the rare occasions receivers caught passes on him they were challenged. The USC commit doesn't have elite turn-and-run speed, but he does close well and his physical nature makes it tough on all receivers.

The 2020 USC commit is an undersized mighty mite receiver who is difficult to handle in one-on-one situations. Bigger cornerbacks lunge at him and he usually slips by them at the line of scrimmage and he has excellent speed once he has the ball in his hands. Hutson can also make tough catches. He did have the ball poked out once and it ended up being a turnover, but the 2020 recruit had a solid performance.
It is hard to fathom how lower-level Pac-12 teams have not offered Bailey. The three-star receiver was Uiagalelei's favorite target in the first half as Bosco built its big lead and he routinely got wide open against fantastic defensive backs, made tough catches when they covered him up and he showed off excellent speed and competitiveness. There are a lot of struggling programs out there that could use Bailey in their offense as he had six catches for 161 yards and three TDs in the win.
Listed as a three-star athlete, McDuffie played cornerback all night and looked good. That's almost certainly where he projects in college. McDuffie has excellent speed, great hands, terrific footwork and catches don't come easy to his side. There was rarely one pass that McDuffie gave up where he wasn't right with the receiver and making it difficult.
Lytle was all over the field and really did an excellent job tracking the play sideline to sideline, being the first to slow up running backs so other defenders could swarm and making stops time and time again. The Wisconsin commit has gotten bigger, faster and stronger and his ability to diagnose the play and then go and make the play is impressive.
What stood out most to me about Bowman's performance was his speed on the outside and his ability to stretch the field. He caught some short passes and gained yards that way and while he wasn't used much in the deep passing game, the Stanford commit showed that ability to keep defensive backs honest.

The four-star linebacker was aggressive, swarmed to the ball and was active all night making tackles or being involved in a gang tackle. Goforth has great length and speed and that's what makes him one of the more special defenders on the loaded Bosco roster. His brother, Randall, went to UCLA but USC, Vanderbilt and others intrigue him at this point.
Wolfe is a massive target at 6-foot-6 and 245 pounds who is a constant threat in the red zone because he's simply bigger than most of the linebackers or defensive backs matched up against him. That's how he garnered a pass interference flag in the end zone as Bosco extended its lead. I do wish at times he was used more in the passing game because he could be a dominant player. Wolfe was impressive on Saturday.

This was the first time I had an opportunity to watch Williams for extended minutes and he has the potential to be a really special player. The 2020 prospect has great awareness, he's aggressive and fast and he's always around the football tipping passes or pressuring the quarterback and just making things happen for the defense. So far, Arizona State, Colorado, Oregon, USC and Utah have offered.
Boise State is getting a serious steal in Holani, who is not only a tough runner between the tackles but he's electrifying with the ball in his hands. The three-star can fit through the tightest of spaces, bounce out the other side, keep his legs moving and then turn on the jets to gain big yards. He had a huge performance, he's having a big season and Holani could be a major contributor for the Broncos.
I had not seen much of Poti because he was dealing with injuries, but the four-star defensive lineman had a phenomenal game and absolutely dominated up the middle. He pressured Mater Dei QB Bryce Young numerous times, showed a special level of relentlessness and a surprising amount of power. The Oregon commit will move to being ranked among the defensive tackles and there's no question he could have a special career in Eugene.

Toler was active in the secondary all night, especially covering up receivers so Young had few opportunities to make plays. The Colorado commit is just very sound in everything he does, doesn't get burned and is always around the ball. Toler was also useful on special teams and made a big hit late in the game.

The five-star receiver had another strong performance as he showed off excellent hands and the ability to get open against anybody as McCoy continues to prove he's one of the best players in the country. McCoy can catch short passes, make people miss and gain yards that way or stretch the field and get open down the field. McCoy is excellent and had another good night. USC, Texas and Oklahoma remain the frontrunners.
Huffman-Dixon had one of the nicest catches of the night, a leaping grab on the sideline, but the four-star Colorado commit was limited from there. The Mater Dei passing game did not exactly punish St. John Bosco's defense through the night and Young usually found McCoy in the passing game when things were working. Huffman-Dixon has great size and he's rangy but the ball was not coming his way often.
Young did not have many open receivers as Bosco's defensive backs did a great job of locking up the Mater Dei targets on the outside all night. The 2020 USC commit is as efficient as they come at the position, rarely making the wrong decision - or even worse a bad decision - but he had nowhere to go with the ball on Saturday night. Young needs to get out of the pocket often to find open receivers and to see over the line of scrimmage if it's not a clean pocket, but he does look to throw first and run second. There's no doubt he's a talented quarterback, but his size will remain an issue.
The three-star defensive lineman transferred to Mater Dei this season and this was his biggest test yet. Bennett looked really good against Bradenton (Fla.) IMG Academy earlier this season and backed up his performance again against Bosco by showing power and speed up the middle and being a disruptive force. He should be a good one for Oregon State. Uiagalelei was not sacked all night but Bennett was trouble up the middle for long stretches.
Martinez is such an intriguing prospect because he's just so massive and such a huge target in the passing game. The three-star UCLA commit wears size five-XL gloves and size 19 shoes but he's not a lumbering tight end. Martinez is comfortable with his size and in his own body and he got open numerous times on Saturday night to make tough catches. At his size - 6-foot-6 and 240 pounds - Martinez is not yet a great blocker but more comfortable splitting out and being a matchup problem down the field.