Gorney's takeaways: Loaded weekend in Southern California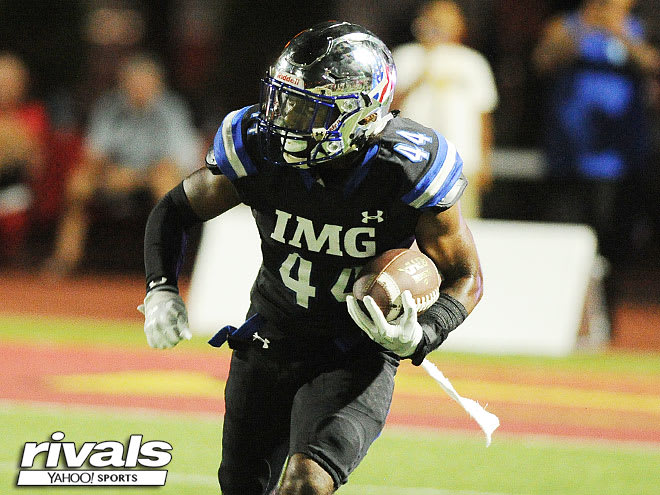 MORE: Houston-area recruits detail destruction from Hurricane Harvey
It was a loaded weekend in the West region with the headliner on Friday night being Santa Ana (Calif.) Mater Dei beating Las Vegas Bishop Gorman. 35-21, to snap the Gaels' 55-game win streak. On Saturday, the Honor Bowl played host to three big-time matchups with the nightcap of Bradenton (Fla.) IMG Academy beating Corona (Calif.) Centennial by 20 points.
Here are the some takeaways from the busy weekend.
BOOKIE IS FOR REAL
Brendan Radley-Hiles is a well-respected cornerback, one of the best in the country, and that's why he's ranked fourth at his position. He backed it up Saturday night – and more.
The Nebraska commit had a pick-six where he punched a pass to the sideline up in the air, then came down with the ball and returned it for the score.
He locked down receivers all night and for someone listed at 5-foot-10 and 187 pounds he plays so tough and with a lot of passion so bigger receivers can't get off the line.
Radley-Hiles is as physical as any cornerback in this class, he is competitive every single down and the four-star has excellent closing speed. The Huskers are getting a special player in the secondary.
ADDISON AT RECEIVER?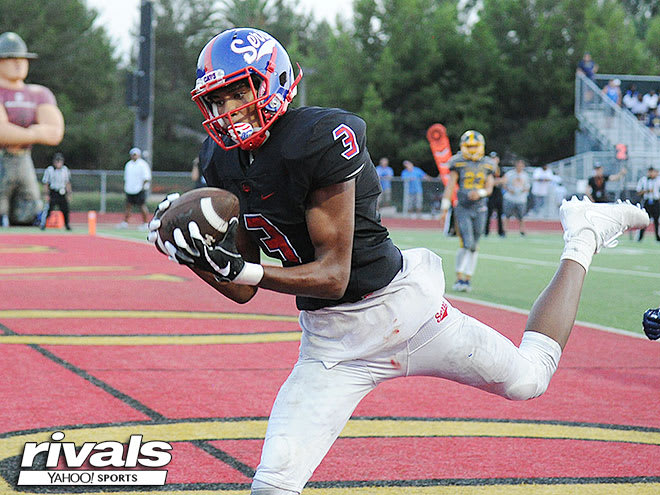 Bryan Addison is listed as the third-best athlete in the 2018 class and many project him to play safety in college with UCLA, USC, Michigan, Arizona State, Nebraska and others involved.
Coaches better consider him at wide receiver as well. The 6-foot-5, 175-pound four-star prospect was unstoppable at receiver in a 56-42 loss to Honolulu (Hawaii) Punahou this weekend.
Addison finished with three touchdown catches and because of his long, lanky and athletic frame, cornerbacks couldn't compete with him on high passes only he could reach. The four-star showed off excellent hands and he's not a sharp route runner yet but he's definitely capable of being a standout at that position.
STAR IN THE MAKING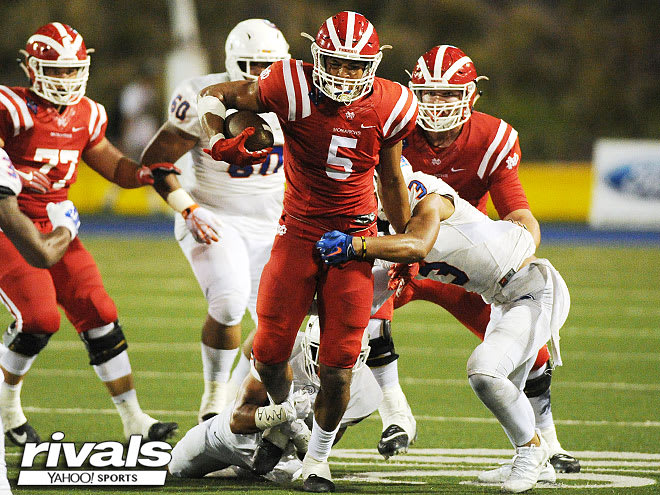 Bru McCoy missed basically the entire offseason as he recuperated from a shoulder injury but he opened his junior season with a bang on Friday night in Mater Dei's win over Bishop Gorman.
His stats were seven catches for 137 yards. More than that, though, the 2019 four-star was a dominant force on the outside, could not be defended one-on-one and showed high-level athleticism and physical play. Plus, he was a mean blocker that showed a tough side not regularly seen before.
A comparison? He's a more athletic and aggressive if not as physically imposing clone of Equanimeous St. Brown, who starred at Anaheim (Calif.) Servite and is now a top receiver at Notre Dame.
McCoy is being chased by pretty much every top program nationally and it was easy to see why: He has great hands, plays with a mean streak and had his way as an outside receiver.
FUNA WAS A BIG SURPRISE
No one was more productive defensively on Friday night – and that includes Gorman five-star linebacker Palaie Gaoteote, who also had a nice performance – than 2019 four-star defensive end Mase Funa from Santa Ana Mater Dei.
He was everywhere, doing everything, at all times. Funa lined up at outside linebacker and got into the backfield, regularly pressuring Gorman's four-star quarterback and UCLA commit Dorian Thompson-Robinson.
He was cleaning up at the line of scrimmage. He was wrecking the running back who had no space to maneuver. Funa, who looks like a defensive end but has the athleticism to play linebacker and in space, was outstanding and is a huge key to Mater Dei's success this season.
So far, BYU, Oklahoma and Utah have offered but it wouldn't be surprising if every Pac-12 school is involved soon.
DANIELS WAS SHARP AGAIN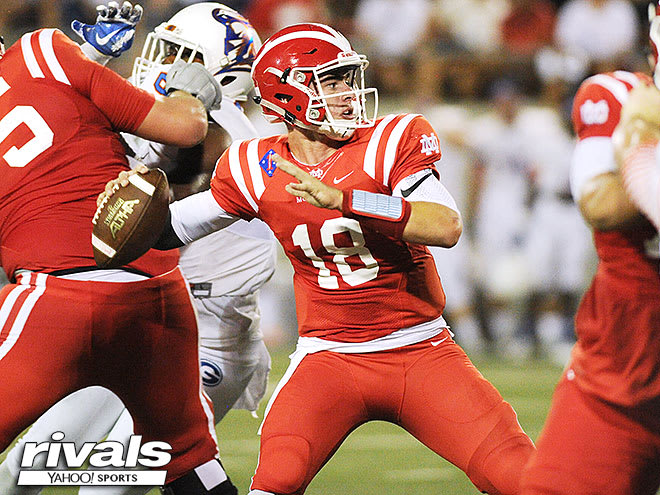 The top-rated prospect in the 2019 class, five-star USC quarterback commit JT Daniels, looked like the best player on the field and definitely backed up his ranking in many ways.
The five-star quarterback threw for more than 300 yards and two touchdowns and had complete control of Mater Dei's offense all night. He did fumble near the goal line early in the game but looked excellent the rest of the way minus a few high passes.
Daniels is definitely a pro-style quarterback but his ability to step up in the pocket and away from pressure is sometimes overlooked and when things break down he can get some yards with his legs. He's not a statue.
What was even more impressive in Mater Dei's comfortable win over Las Vegas Gorman was that his star receiver – five-star Amon-Ra St. Brown was sidelined with a finger injury. Daniels still moved the offense up and down the field all night.