Gordon talks Toledo commitment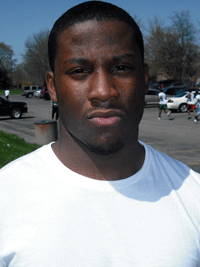 The Ohio State-Toledo game in Cleveland was a first in two ways for Cleveland (Ohio) Glenville linebacker
James Gordon
. It was his first time watching Toledo as a future player in the program, and the first time in his life he rooted against the Buckeyes.
The 6-foot-2, 205 pound prospect committed to Toledo, as reported by Rivals.com on Wednesday.
"Going to that game was a lot of fun," Gordon said. "That was the first time I have ever rooted against the Buckeyes. We have a pipeline into Ohio State here at Glenville, so I have always followed them. But it was a great experience to watch Toledo take them on."
Gordon said he knew he was going to Toledo before they took the field against Ohio State.
"I went up to Toledo for their junior day last year, I got to meet the coaches, they seemed real cool and down to earth. My mom and I both liked the campus. The coaches just showed me a lot of love. I felt comfortable with them. I returned for summer camp and have had a bond with them ever since. That is the best place for me."
The Rockets fell to Ohio State 38-0, but Gordon feels Toledo has a bright future under Head Coach Tim Beckman, a native of the Cleveland area, and a former assistant at Ohio State under Head Coach Jim Tressel.
"I have a pretty good relationship with Coach Beckman," Gordon said. "I talked to him a couple of days ago about the commitment. He can't wait for me to get up there. We both feel I have a chance to play early and make a great contribution to the team."
Glenville stands at 3-1 on the year. Gordon has missed the last two games with a deep thigh bruise. He is questionable for Friday's game at home versus Collinwood.