Georgia's slow start to 2018 class has raised eyebrows across SEC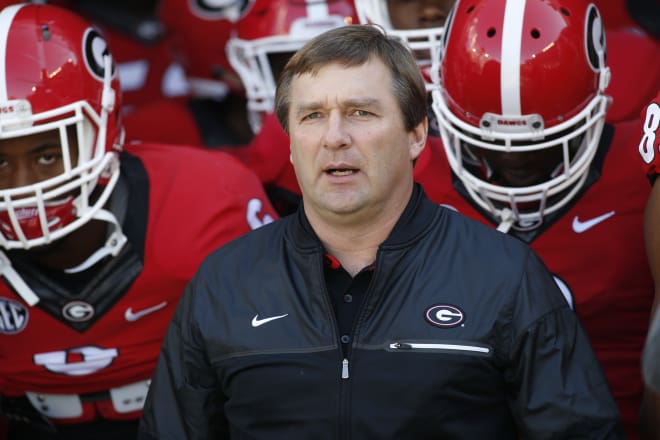 MORE: SEC Breakdown: SEC recruiting powers in pursuit of QBs
Kirby Smart's first full recruiting class was phenomenal.
Georgia landed five-star quarterback Jake Fromm, who flipped from Alabama, and five-star offensive tackle Isaiah Wilson from Brooklyn (N.Y.) Poly Prep to lead the 2017 group.
High four-star running back D'Andre Swift, out of Philadelphia (Pa.) St. Joseph's, headed to Athens and in-state recruiting was terrific with 11 four-star commitments from Georgia.
The Bulldogs finished ranked third nationally in the 2017 Rivals.com Team Rankings behind Alabama and Ohio State. Even after being hired in December 2015, Smart kept five-star quarterback Jacob Eason in the class and ended up with three five-stars to finish No. 11 nationally.
So what's happened to the start of the 2018 recruiting class?
Yes, it's only two months post-signing day but Georgia is off to an incredibly slow start in 2018 and top national programs are rapidly pilfering in-state prospects at a worrisome pace.
"I don't think it's too early to worry," Rivals.com Southeast Recruiting Analyst Chad Simmons said. "You have to be a little concerned if you're Kirby Smart. Sitting here going into the spring with just two commits in 2018. You're doing great early on for 2019, you may have had the best class on paper for 2017, but it's tough going early on.
"There is a little bit of concern based on what I'm hearing out of Athens right now but they're confident they'll still sign a top class. Things aren't going exactly the way they want right now."
To say the least.
Clemson dipped back into the state to land five-star quarterback Trevor Lawrence, the nation's top player, like it did years ago with Deshaun Watson. The Tigers have also landed a pledge from four-star defensive end Justin Mascoll.
Ohio State (Emory Jones) and Notre Dame (Derrik Allen) have landed top-five in-state recruits. Michigan has swiped four-stars Myles Sims and Otis Reese and in recent days landed three-star running back Christian Turner, although Georgia had not offered him.
Penn State, Florida State, Alabama and Auburn also have commitments from top 20 in-state recruits.
Georgia? None. The Bulldogs' only in-state commitment comes from four-star defensive end Adam Anderson, ranked No. 23 in Georgia. Their only other pledge comes from three-star linebacker Donovan Georges from Hialeah (Fla.) Champagnat Catholic.
As it stands, Georgia is second-to-last in the SEC team recruiting rankings.
Smart's club is off to a hot start with its 2019 recruiting class led by five-star wide receiver Jadon Haselwood from Ellenwood (Ga.) Cedar Grove but even that class is getting raided with Florida State landing three in-state prospects – four-star Wanya Morris along with Kenyatta Watson and Tru Thompson – from Loganville (Ga.) Grayson.
"What's happened with the transition, everybody looks at Georgia as a state that's available to be raided," Rivals.com National Recruiting Director Mike Farrell said. "They didn't have a great year on the field and any transition is a sign of weakness.
"When you see Florida State grabbing those Grayson kids and Michigan grabbing another elite kid in the state of Georgia, you know everybody is coming in there. I would be a little concerned but that being said Georgia is going to be a much better product on the field and Kirby and his staff can recruit so they'll be in the mix for the big-named guys for the foreseeable future."
There is hope. The 2017 recruiting class was phenomenal and loaded across the board. The quarterback position seems to be secure for years. Versatile athletes and defensive backs filled out the class. The SEC East is ripe for the taking.
Concern is evident but it's still so early. Half of the top 20 in-state prospects remain uncommitted. There's a sense that many top recruits, not only in Georgia but those in the region considering the Bulldogs, are waiting to see how Smart does in his second season and they're guys who are planning to commit later anyway.
Those are good signs for the Bulldogs, who are still looking for a special leader in this class, like Richard LeCounte was the ringleader in the 2017 group.
"They need a leader in this class," Farrell said. "Last year it was LeCounte and in previous years you've had guys who led the charge for in-state recruiting and to keep the class together. That's not there yet.
"They're recruiting more nationally than they have when you get Eason from the West Coast and Wilson from New York and you're hitting territorial states like North Carolina. You're going to offset some in-state losses. A good season will help but everybody realizes how much talent there is in Georgia now and how important the Southeast is to winning a championship so that's where you start seeing more schools come in."
That's the challenge Georgia faces. But with every challenge comes an opportunity.