Georgia OL Trente Jones commits to Michigan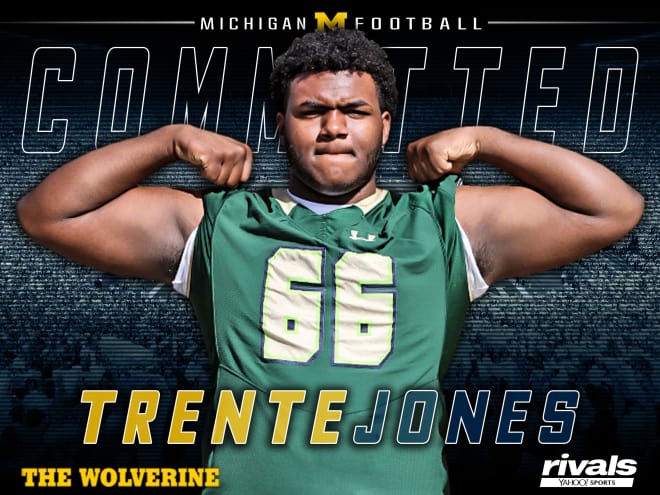 Trente Jones traveled to Ann Arbor (Mich.) over the weekend for the first time and he saw all he needed to see.
The 6-foot-5, 293 pound offensive lineman out of Loganville (Ga.) Grayson has committed to the Michigan Wolverines.
"I just got off the phone with coach [Jim] Harbaugh and he said that he accepted my commitment," said Jones.
A long list of schools have offered Jones and he has taken numerous visits, but none compared to the one in Ann Arbor.
"Michigan is the perfect fit for me. I love the atmosphere and I can honestly say that this is the first school that I felt at home.
"The environment was family friendly and I felt as if I could talk to anyone. It was just like home."
Meeting Harbaugh for the first time made a strong impression on Jones. He'd heard about him, he'd read about him, but meeting the Michigan head coach really closed the deal for Jones.
"I knew Michigan was the right fit when I first met coach Harbaugh. He was very honest and is the very definition of a man.
"He is very cool and inspiring. I also look up to him. He has coached and played at some of the top levels of football he really knows the game.
"He showed me that he feels comfortable with anyone regardless of who they are. He's just a great guy."
Jones announced his decision Wednesday, but his mind was made up a couple of days ago. He said as soon as he landed in Atlanta, the Wolverine coaches were all checking on him to make sure he arrived safely.
His mind was made up and he is excited about the future.
"I believe I have just taken another step towards greatness and honestly I feel blessed about this commitment," said Jones.
"I am humbled and honored to be a Michigan commitment."