Georgia makes QB recruiting history with Fields' commitment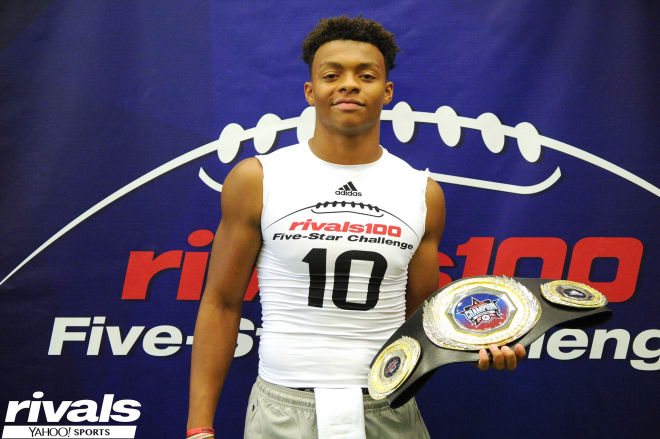 Mark Pszonak contributed to this report.
Georgia just made Rivals.com history by landing quarterback Justin Fields, its third five-star quarterback in as many recruiting cycles. That surpasses Florida, Notre Dame and Clemson, all of which managed two in a row.
Two is hard enough, three is ridiculous.
Notre Dame almost did it back in 2006 but then-coach Charlie Weis reportedly turned away five-star quarterback Mitch Mustain after he de-committed from Arkansas out of fear he would lose Jimmy Clausen the next year. That speaks to how hard it is to string together back-to-back five-star quarterbacks, much less three in a row. So now Georgia has the ultimate problem – too many talented quarterbacks. Don't feel sorry for it.
Here's a look at the five-star quarterback commitments in consecutive seasons.
FLORIDA: 2006, 2007 (Tim Tebow/Cam Newton)
How it played out: Considering what both Tebow and Newton accomplished during their collegiate careers, it's amazing to think what the Gators were able to accomplish during these two recruiting cycles. During the 2007 season, Tebow was the full-time starter, and went on to win the Heisman Trophy while Newton served as his backup as a true freshman. In 2008, Newton suffered an injury that caused him to miss the season — which ended with Tebow leading the Gators to the national championship. Newton transferred to junior college for the 2009 season due to some off-field issues before signing with Auburn in 2010, where he won the Heisman Trophy and national championship. Both players went on to be first-round NFL Draft picks, with Newton is continuing his success in the pros while Tebow's playing career fizzled despite continued fanfare.

Farrell's Take: Tebow was obviously a huge deal and an epic recruiting battle between Alabama pre-Nick Saban and Florida with Urban Meyer. We all knew he was going to become a Gator, but yet the drama never ended. Newton was a four-star kid until our final evaluation at the Offense-Defense Bowl that year and we saw something special. As often happens when there are two five-star quarterbacks in back-to-back years, one flourishes and the other transfers but for Newton it wasn't because of a lack of talent. He ran into some off-the-field issues and became a five-star all over again as a JUCO. This is a heckuva 1-2 punch and clearly Newton landed on his feet.

NOTRE DAME: 2007, 2008 (Jimmy Clausen/Dayne Crist)
How it played out: Clausen's recruiting process, which created a stir from beginning to end, culminated in his commitment to the Fighting Irish at the College Football Hall of Fame. However, that still didn't scare away Crist from signing with Irish just a year later. Clausen enjoyed a successful, yet unremarkable career in South Bend, as he was the established starter for three years, but never lead the team to better than a 7-6 record. Crist redshirted in 2008, backed up Clausen in 2009 and then in 2010 suffered a season-ending injury in Week 9 after leading Notre Dame to a 4-5 record. After being replaced by Tommy Rees he was never able to regain his starting job, which eventually led to his transfer to Kansas. Clausen spent six seasons in the NFL, with his last action coming in 2015, while Crist spent time in training camp with the Baltimore Ravens but never made an active roster.

Farrell's Take: Clausen was called the "LeBron of high school football" by one quarterback guru, which was ridiculous but he was a super talented kid and our No. 1 player overall for many reasons. His career at Notre Dame, to me, was a good one but he had a horrendous offensive line. I remember Weis turning down Mustain the year before because he promised Clausen he would be the only quarterback he wanted, but it wasn't a shocker when Crist followed. Crist also had a ton of talent but injuries derailed his career in college. This didn't turn out to be as dynamic as the Tebow-Newton story, but these guys were heavily coveted.

CLEMSON: 2017, 2018 (Hunter Johnson/Trevor Lawrence)
How it played out: Johnson originally committed to Tennessee before flipping to the Tigers in a surprise move late in 2016. He immediately became an important recruiter for the Tigers and helped add a few more important pieces to the Tigers' 2017 class. He enrolled early at Clemson, but lost out to Kelly Bryant for the starting job this season. With Bryant performing well, and the Tigers undefeated, Johnson has only attempted seven passes this season. Battling with Zerrick Cooper for the backup job, it should be interesting to see if Johnson plays anymore this season, with a redshirt still possible. Lawrence initially favored Tennessee and Georgia, but after the Tigers joined the chase they quickly moved to the front of the pack. He has enjoyed a sensational senior season and has shown no signs of wavering from his commitment.

Farrell's Take: The good news is that Clemson recruiting is off the charts at quarterback and you can't forget Chase Brice as well here even though he's not a five-star. But the sobering news is that even with back-to-back five-stars or two five-stars in the same class, usually one guy ends up transferring. So will this happen at Clemson? Time will tell as there is a long way to go before either plays, but right now this is probably even more impressive on paper than either Tebow-Newton (out of high school) or Clausen-Crist.

GEORGIA: 2016, 2017, 2018 (Jacob Eason, Jake Fromm, Justin Fields)
How it played out: Eason committed to Georgia during the summer leading up to his senior season, but the firing of Mark Richt opened the door for several programs, which resulted in visits to Miami, Washington, Washington State and Florida. However, an official visit back to Athens once again sealed the deal. Eason quickly took control of the Bulldogs' offense in 2016 and despite some ups and downs, showed the potential that made him a five-star. Fromm initially committed to Alabama, but then flipped to the Bulldogs in early March. He was thought to be the back-up to Eason this fall, but an injury to Eason in the opener quickly put Fromm in the spotlight. He has responded extremely well, so now with Eason back, it will be interesting to see how the Bulldogs juggle the quarterback situation the rest of the season. Fields initially committed to Penn State, but with offers flooding in from across the country, he re-opened his process during the summer. With Georgia, Florida, Florida State and LSU immediately becoming serious players, it really came down to the Bulldogs and Seminoles at the end. Fields gives Georgia yet another dynamic signal-caller to add into the mix for the next few years.

Farrell's Take: Eason was a big deal because he was across the country and looked a lot like Matthew Stafford with great arm talent. Fromm became a five-star late in the process but was a huge flip for Kirby Smart from his mentor Nick Saban. He was considered a "gamer" with less natural talent than Eason but more intangibles. Fields is better than both overall because of his ability to extend the play and be a threat in the running game. This is an amazing job by the UGA staff and we know one of these guys will likely transfer, but having too much quarterback talent is a good problem to have.