Georgia DB Tee Denson to Kansas State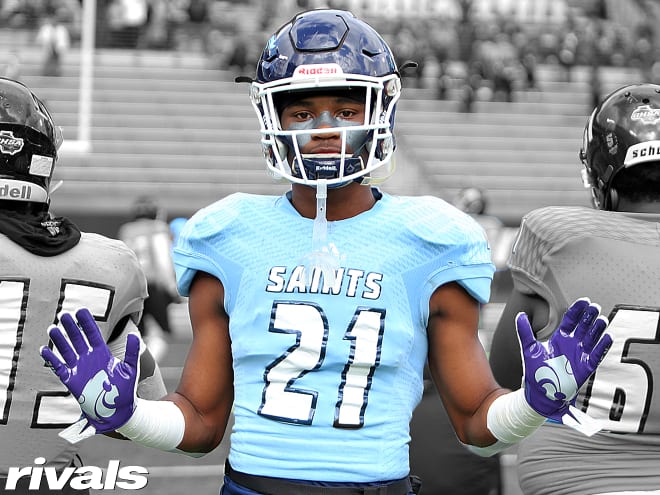 It has been a very busy last few weeks for Ellenwood (Ga.) Cedar Grove defensive back Tee Denson.
On top of finishing out school strong before the holiday break, he helped his team win their second state title in two years and had to make a decision in recruiting.
It came down to Kansas State and Purdue for Denson. The former Pitt considered schools like Miami and Virginia Tech, but the Boilermakers and Wildcats looked like the best fit to him before he decided he wanted to move to Manhattan and become a Wildcat.
He quietly took that official visit just a few days ago.
"I just felt a great vibe at Kansas State," said Denson. "Also the new coaching staff is great.
"Coach Klieman is the man with the plan. All you have to do is check his resume. He has a winning mentality and he cares about the all the guys like they are his own kids.. that's what I love most about him.
"When I visited I was shocked by how much the people around town care about the school and Kansas State football. There was banners and billboards everywhere with Kansas State players on them. Manhattan really does love Kansas State football and that's the place I want to be.
"The coaching staff was completely honest throughout the whole process. It's hard as a teenager to trust someone with your future just by off of what they're saying. But with Kansas State, I didn't have that problem.
"I believe in coach Klieman and the rest of his staff. We will win a Big 12 championship while I'm there. I can promise you that.
"It's a relief to be finally done with this recruiting process and I'm happy with my decision. I know I made the right one.
"Go cats!"
Denson is another very good pick up for the Wildcats out of Georgia. He comes from a great high school program, he has a great work ethic and he is only going to get better. His length and toughness stand out as much as anything when you watch Denson in action. He is not afraid to tackle on the perimeter and he will battle with bigger wideouts. Denson will take that winning mentality to Manhattan and he is one who could see the field early in his career.