Georgia athlete's had commitment thoughts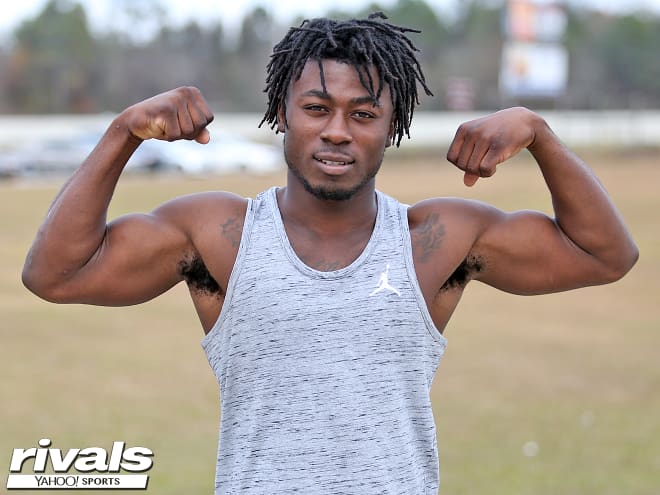 Well over a dozen schools have offered 2019 athlete Jammie Robinson. The 5-foot-11, 190 pound junior out of Cordele (Ga.) Crisp County made plays on each side of the ball this fall and he is being targeted by numerous ACC and SEC programs.
He saw Markaviest Bryant go through the recruiting process a year ago before he signed with Auburn in February. Quay Walker is one he has watched closely this year and the four-star linebacker is currently committed to Alabama.
Robinson saw Walker commit before his senior year and Bryant take it down to the wire, so when could he pull the trigger?
"I have already thought about committing to be honest about it," said Robinson. "I have been close because there is that one team that is really standing out to me right now.
"I have really thought about it, but I have not done it yet and I will keep that school to myself for now. I have to keep people guessing right now."
He does not think he will act on those feelings any time too soon. He is looking towards the end of his junior year as of now.
"I will probably commit during the summer. I could make it happen earlier or I could wait until my senior year, but right now, I am thinking I will make it happen over the summer.
"I do not think I want to commit just yet."
Quite a few schools are coming after Robinson right now, but a couple are coming a little harder than others. Georgia Tech and South Carolina are showing the most interest right now.
He has a teammate committed to the Gamecocks and he likes their approach.
"I am very familiar with South Carolina and the whole coaching staff takes care of me and my mom when I go there," said Robinson. "They check on me every day, they make me feel wanted and they have done a really good job recruiting me.
"It is not just one coach that recruits me, but all of them have talked to me. Ahdarrious Gee is committed to them too, so it would be cool to play with him again, so there is a lot that I like about them."
He has visited Columbia four or five times and he has visited Atlanta a couple of times too. The education the Yellow Jackets offer is one thing that stands out.
"It is a school close to home and a degree from them could really help me after college. It is a good school and I will get back there for another visit.
"I am hearing from coach [Andy] McCollum from every day right now and he wants me to come play defensive back for him. I like him and his energy and they want me to get back up there."
Auburn, Clemson, Michigan and Virginia Tech are four more schools that are consistently recruiting Robinson. He is keeping his options open and listening to what each school has to say.
"I am really just enjoying the recruiting process right now and I am open to everyone," said Robinson. "There is that one school that I do like a lot, but I like other schools too.
"I have almost picked up that phone and made that call to commit, but I am just not ready yet. I want to see what schools come after me and I don't want to have any doubt in my mind when I commit.
"I want to be sure of things."
Robinson plans to be patient, to see how his recruitment evolves in the coming months, then hit the road and take some visits in 2018 before he makes his decision.