From two-stars to NFL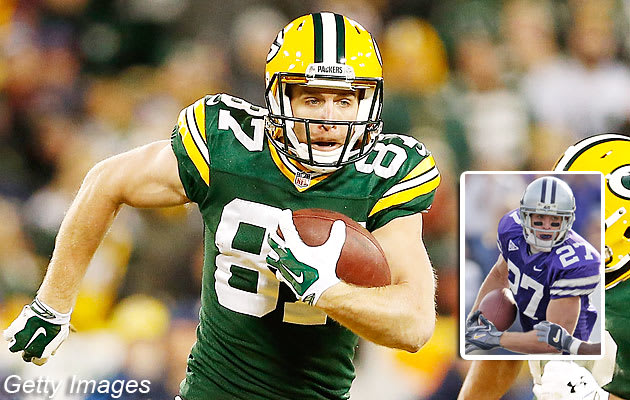 Jordy Nelson
3. RB

Le'Veon Bell
After a very solid career at Michigan State, Bell was selected with the 48th overall pick of the 2013 NFL Draft by the Pittsburgh Steelers. His NFL career did not start off on a positive note, as a foot injury caused him to miss the first three games of the 2013 season. However, he did finish on a high note, totaling 860 yards and eight touchdowns on the ground, plus 399 yards and 45 receptions through the air. Playing a full season in 2014, Bell surprised many with his impressive play. He finished second in the NFL in rushing yards, behind only DeMarco Murray, with 1,361, along with eight touchdowns. He also snatched 83 receptions for 854 yards and three touchdowns. Plenty of big things are expected out of Bell by the Steelers in 2015, and he will be one of the top fantasy football targets of many this upcoming season.
4. QB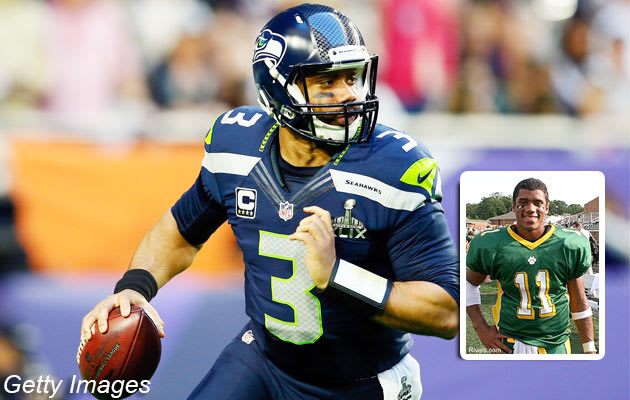 Russell Wilson
Despite a successful college career that saw him take NC State to two bowl games and Wisconsin to the Rose Bowl in his lone season in Madison, Wilson was still considered a mid-round pick heading into the 2012 NFL Draft because of his height. He was selected by the Seahawks with the 75th overall pick in the third round. Surprising many people in pre-season camp, Wilson was named the starter heading into the 2012 season. He has never looked back. He finished the season passing for 3,118 yards and 26 touchdowns, and was named to his first Pro Bowl afterwards. Wilson was even more impressive in 2013 while leading the Seahawks to the Super Bowl title. Passing for 3,357 yards and 26 touchdowns during the regular season, Wilson threw for 206 yards and two touchdowns during their romp over the Broncos in the Super Bowl. While the Seahawks finished a step (or horrible play call) short of repeating as champions in 2014, Wilson again turned in a stellar season, finishing with 3,475 yards and 20 touchdowns. He has also shown off his athleticism during his three seasons in the NFL, totaling 1,877 yards rushing yards and 11 touchdowns during that time.
5. RB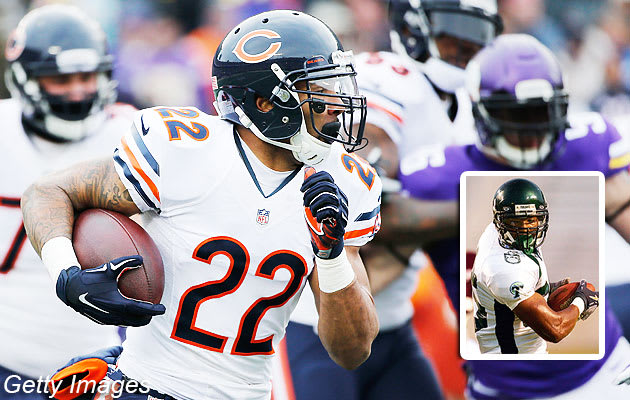 Matt Forte
Forte was a big back who wasn't well-regarded by many and projected by Rivals as a fullback as he headed off to Tulane despite a 10.68 100-meter time in track. These were the early years at Rivals where film was sparse and players like Forte slid under the radar a bit more easily, but this was clearly a miss by everyone and a huge get for the Green Wave.
Forte was selected in the second round with the 44th overall pick of the 2008 NFL Draft by the Bears. Forte quickly made a favorable impression in pre-season camp and was named the starting back heading into the 2008 season. He finished the year with 1,283 yards and eight touchdowns, along with 63 receptions for 477 yards and four touchdowns. His 1,715 total yards from scrimmage were the third highest total in the entire league that season. He has remained the lead back for the Bears since his rookie season, rushing for 1,000-plus yards four more times, as well as becoming the top receiving back in the league. He set the NFL record for receptions by a running back in one season with 102 in 2014. Forte has made the Pro Bowl twice and the All-Pro team once.
6. WR

Brandon Marshall
After being selected in the fourth round with the 119th overall pick of the 2006 NFL Draft by the Broncos, Marshall has experienced a roller-coaster ride of a career. During his final three seasons with the Broncos, Marshall recorded 102, 104 and 101 receptions, but that also included a three-game suspension for legal troubles and a few odd off-the-field injuries. During his final season with the Broncos in 2009, Marshall also set the single-game NFL record for receptions with 21. After the 2009 season, Marshall was traded to Miami, where he spent two seasons. Both of those seasons produced 80+ receptions and 1,000+ yards. Before the 2012 season, Marshall once again was traded, this time to Chicago. Spending three seasons with the Bears, Marshall continued to produce gaudy numbers, including the 2012 season when he finished with 118 receptions for 1,508 yards and 11 touchdowns, all career-highs. However, Marshall was sent packing again after the 2014 season, with the New York Jets being his new destination. During his stay in the NFL, he has been named to six Pro Bowls and one First-Team All-Pro team.
7. LB
Ontario (Calif.) Colony, 2008, Utah State
Bobby Wagner
Utah State was the only school to offer Wagner out of high school and he was a relative unknown back in 2008. Hailing from Colony High School outside of LA, the 6-foot-3, 210-pounder had a solid but not spectacular career at a school well-known to Pac-12 (then Pac-10) recruiters and was considered a step too slow. So much for that theory.
Wagner was selected in the second round with the 47th overall pick of the 2012 NFL Draft by the Seahawks, and quickly became another piece of their top-caliber defense. Starting at inside linebacker as a rookie, Wagner finished the 2012 season with 140 tackles, three interceptions and two sacks. Helping the Seahawks become Super Bowl champions in 2013, Wagner had 120 tackles, five sacks and an interception. He then totaled 104 tackles and two sacks last season despite missing five games due to an injury. Despite missing those five games, Wagner was named to both his first Pro Bowl and a first-team All-Pro selection.
8. S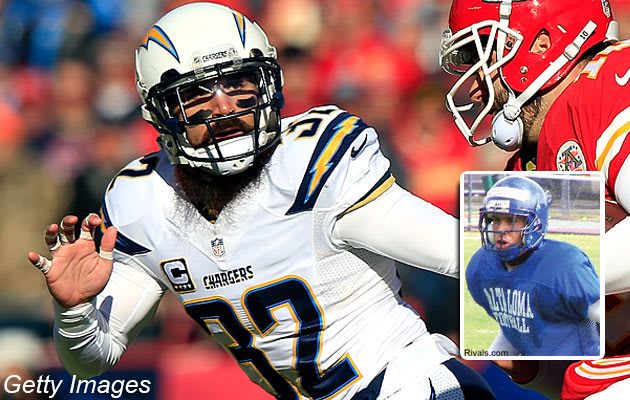 Eric Weddle
After a dominant career at Utah, Weddle was selected with the 37th overall pick of the 2007 NFL Draft by the Chargers. He has spent his entire career with the Chargers, developing himself into one of the best safeties in the NFL. Weddle has made three Pro Bowls, the first-team All-Pro team twice and the second-team All-Pro team three times. He also led the league in interceptions in 2011 with seven and may have had his best statistical season in 2014 with 115 tackles, two interceptions, two fumble recoveries, one forced fumble and one sack.
9. LB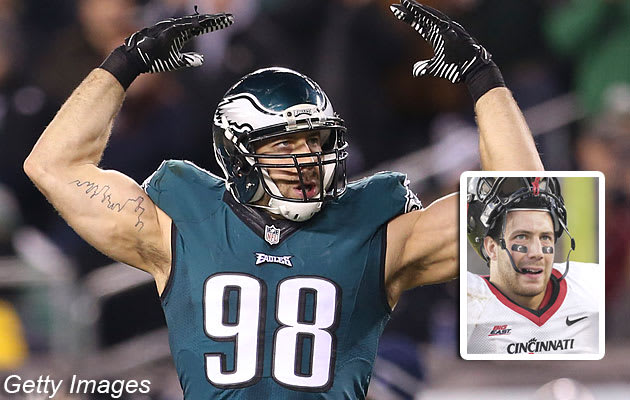 Connor Barwin
Barwin was selected with the 46th overall pick in the second round of the 2009 NFL Draft by the Texans. He saw spot duty as a rookie and then missed the majority of the 2010 season after suffering an ankle injury during the opener. He returned in 2011 and became a starter at outside linebacker, finishing the season with 49 tackles and 11.5 sacks. After another productive season in Houston in 2012, Barwin made the move to Philadelphia as a free agent, where he has started 31 of 32 regular season games. He enjoyed his best NFL season in 2014, when he finished with career-highs in tackles (64) and sacks (14.5), which led the NFC. After the season, he was named to his first Pro Bowl and second-team All-Pro.
10. CB

Tim Jennings
The Colts selected Jennings with the 62nd overall pick of the 2006 NFL Draft. He spent four seasons with Indianapolis, but really began to blossom after making a move to the Bears before the 2010 season. His best statistical season came in 2012, when he finished with 60 tackles and nine interceptions. The nine picks led the NFL and earned him his first trip to the Pro Bowl and also a spot on the second-team All-Pro team. He earned his second trip to the Pro Bowl the following season when he finished totaled 57 tackles, four interceptions and three forced fumbles.
11. OT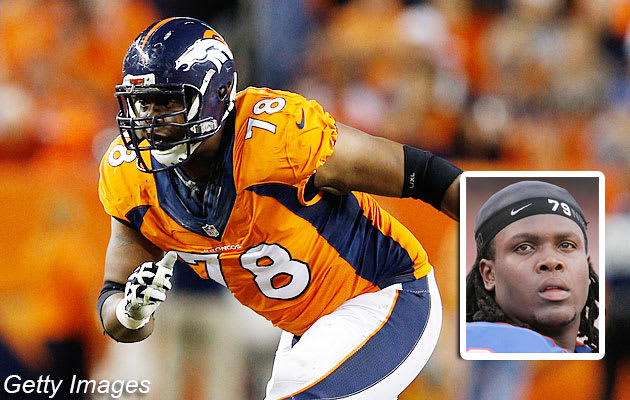 Ryan Clady
12. OT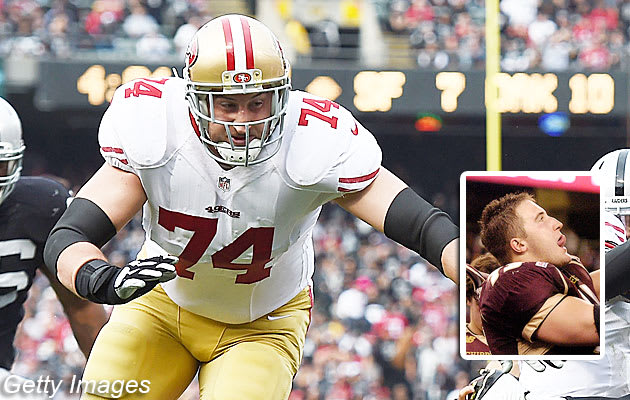 Joseph Staley
Staley was a tall, skinny, average tight end prospect coming out of high school with a lone offer from Central Michigan. Then he added 80 pounds and became a star (more than a two-star for sure).
After trading up to get into position to draft Staley, San Francisco did just that in 2007 with the 28th overall pick. Staley became an immediate starter with the 49ers, beginning at right tackle before moving over to left tackle in 2008. As time has progressed, so has Staley's level of play in the league. He has made four Pro Bowls, all of them coming since the 2011 season, and was named to the All-Pro team after the 2011, 2012 and 2013 seasons. He is under contract with the 49ers through 2019.
13. CB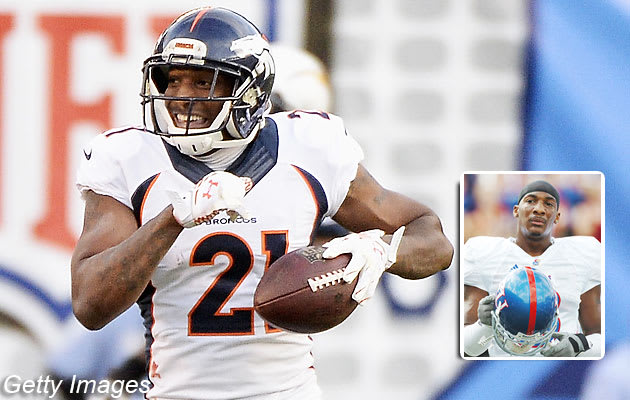 Aqib Talib
Talib came out of Kansas as one of the top cornerbacks in the 2008 NFL Draft and was selected with the 20th overall pick by the Tampa Bay Buccaneers after helping the Jayhawks to an Orange Bowl appearance as a senior. Talib enjoyed four successful seasons with the Bucs, leading all rookies in 2008 with four interceptions, and totaling 18 during his stay. During the 2012 season, his final in Tampa, Talib was suspended for four games by the NFL for violating the league's policy on performance enhancing substances, which led to his trade to New England. After spending a season and a half with the Patriots, Talib signed six-year contract with Denver prior to the 2014 season. In his one season with the Broncos, arguably his best season to date, Talib finished with 64 tackles and four interceptions, which resulted in his second trip to the Pro Bowl.
14. S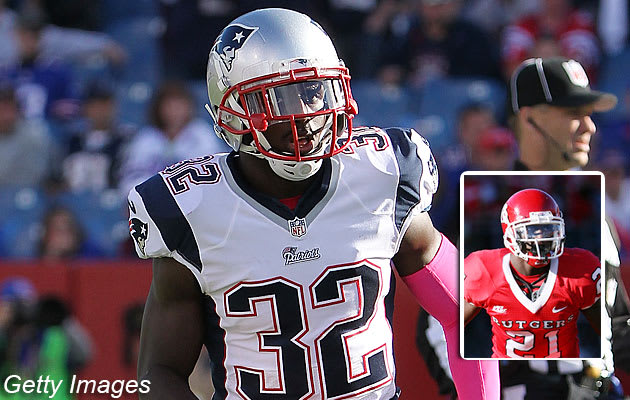 Devin McCourty
After outpacing his brother in the eyes of NFL scouts, Devin was selected with the 27th overall pick by the Patriots in 2010. McCourty started off his NFL career at cornerback before making a move to safety in 2012. As a rookie, McCourty quickly impressed and finished with 82 tackles, seven interceptions, two forced fumbles and a sack. He finished second in the Defensive Rookie of the Year voting, was named to the Pro Bowl and second-team All-Pro. He again was named second-team All-Pro after the 2013 season when he totaled 69 tackles, nine passed defended, two forced fumbles and an interception. After helping the Patriots win the Super Bowl in 2014, he re-signed with New England for $47.5 million over five years.
15. DE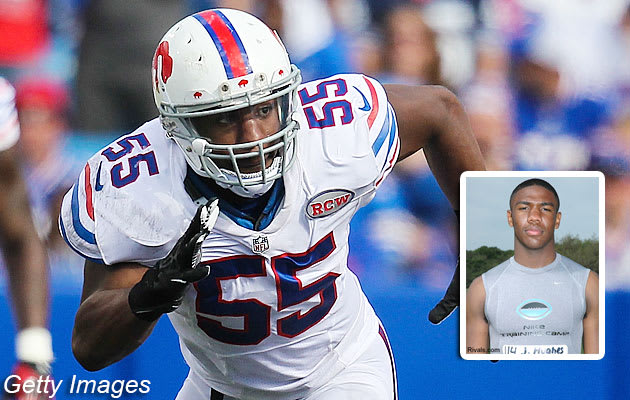 Jerry Hughes
At TCU, he was moved to defensive end right away and after being named a two time All-American at TCU, Hughes was selected by the Colts with the 31st overall pick of the 2010 NFL Draft. Hughes saw minimal action as a rookie before becoming a bigger part of the defense in 2011 and 2012. After finishing with 41 tackles and four sacks in 2012 with the Colts, he was traded to Buffalo, where he has truly begun to flourish. Hughes finished with 46 tackles and 10 sacks in 2013 and then 53 tackles and 10 sacks in 2014, which led to him signing a new five-year contract with the Bills earlier this year.
Mike Farrell
National Recruiting Director