Friedman's Takeaways: 2/10ths Speed and Agility Camp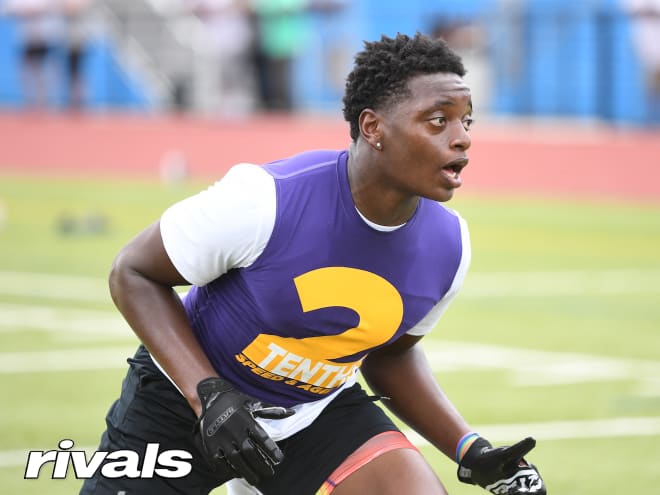 The best Western Pennsylvania has to offer came out to the 2/10ths Speed and Agility Camp at Shady Grove High School on Sunday and it looks like the area is flush with top talent in almost every class. Four-star and potential five-star prospects were on the field and here's the latest on some of the headlines from the day.
Ta'mere Robinson growing into a versatile edge defender
The Isaiah Simmons comparisons have been thrown around a lot for a number of players since the Clemson superstar was drafted in the top five to the New York Giants a few years ago. Ta'mere Robinson may be a closer comparison to Simmons than the rest. Now at 6-foot-4, 220-pounds, Robinson started off his career as a safety and does an amazing job playing in space. He makes a lot of plays on the ball and is comfortable sitting back in a zone. What makes Robinson an even more special prospect is his ability to play physically inside the box.
We saw a lot of growth in this area from Robinson this past season and now it looks like he could be adding another phase to his game. As Robinson continues to get bigger and fill out his frame, teams will use him more as a blitzer and give themselves another option to get to the quarterback. We saw Robinson take reps as a stand up defensive end for the first time on Sunday and he looked very comfortable in that role. His recruitment is shaping up to be a Penn State, Notre Dame, and Ohio State battle but an offer from Alabama or Clemson could shake things up.
*****
Fearbry already preparing for action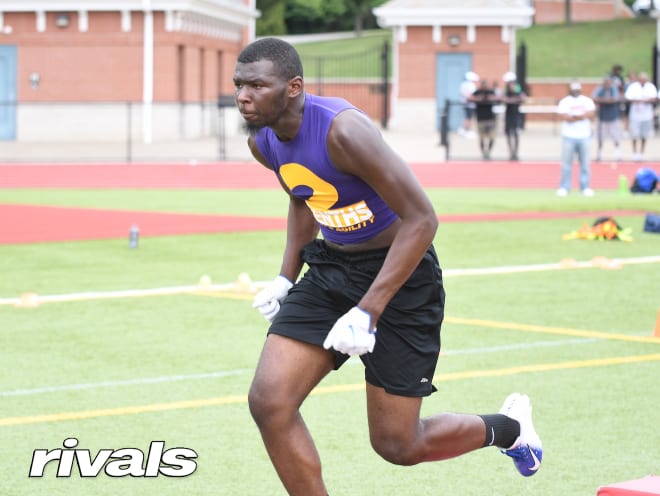 This was the first time Tyreese Fearbry worked out as a defensive end in a camp setting that wasn't at a college and he really impressed. The last time we saw him was at a 7-on-7 tournament where he was playing tight end and he looked much thinner than he did on Sunday. Fearbry has elite athleticism for a defensive end and he has some dependable hand techniques to win at this level.
He generally wins with speed and relatively basic hand techniques but they are definitely effective. It will be interesting to see how he continues to develop his techniques as he gets older and what Penn State will do to continue to work on his frame once he gets on campus.
*****  
Payne showing national recruit potential
Just a 2023 prospect, Lamont Payne has a really bright future ahead of him. He stands at about 5-foot-11, with a very lean frame but he is surprisingly strong and his length really gives receivers problems.
Payne's footwork helped him keep receivers from creating separation and forced quarterbacks into bad throws whenever he was in coverage. It's still very early in his recruitment, and he's only visited Pitt and Penn State so far. Expect Payne to get out more during the season and into the winter.
*****  
The next Porter is on the way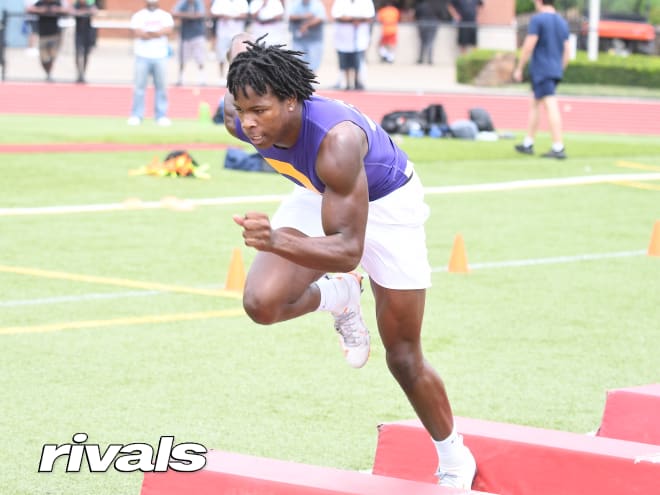 Former NFL star Joey Porter has already had one son go through the recruiting process and end up at Penn State. The next one is on the horizon in 2023 defensive and Jacob Porter. The young defensive end is already really muscled up but he still has a lot of room to fill out. His long arms made it really difficult for any offensive lineman to get a good punch on him.
Porter's understanding of leverage and angles helped him consistently find his way into the backfield. From a technique standpoint, he is very advanced and it won't be long before teams start offering.
*****
Other news and notes...
... Linebacker Anthony Speca, a 2024 prospect, is on the shorter side but already has the build of a college player. The Pittsburgh (Pa.) Central Catholic stand out is rocked up and has very little bad weight on his frame. Speca moved better than expected in space and he had a good feel for coverage in one-on-ones but not getting too big and staying fast enough will be the biggest challenge for him throughout his career.
... Peter Gonzalez, the son of the former Pitt quarterback by the same name, has some real promise as a 2024 prospect. The solidly built sophomore has wide receiver athleticism and good ball skills but, if he doesn't keep getting faster, a move to tight end or linebacker could be in his future.
... Notre Dame defensive line commit Donovan Hinish was on hand observing the workout. He checked in around 6-foot-2 and 275-pounds with what looked like not much bad weight. Even though he didn't participate in the camp, verifying his height and weight will go a long way towards accurately evaluating his upcoming season.
... Many current NFL and college stars were on hand to volunteer and encourage the camp participants. 2/10ths Speed and Agility trainer DeWayne Brown has trained many of the top prospects in the Pittsburgh area for years, including NFL superstar Aaron Donald. Damar Hamlin, Kenny Robinson, Dane Jackson and some others were among the volunteer coaches.