Four-star WR Joseph Lewis breaks down why he picked USC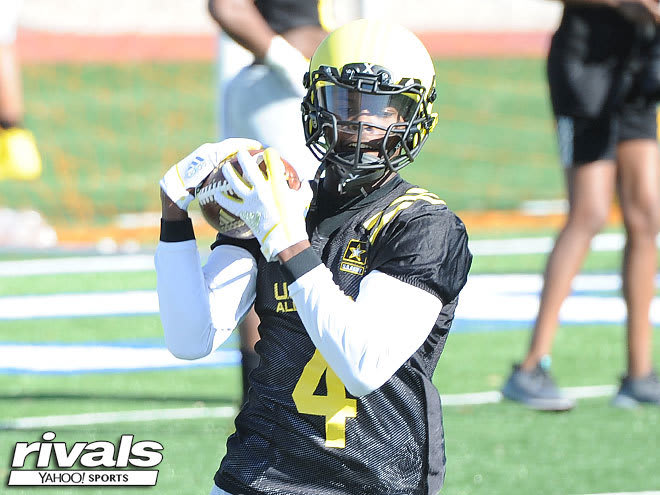 CORONADO, Calif. – Late in the recruiting process, Joseph Lewis was serious about Nebraska, serious about the possibility of leaving home and going to play in the Big 10.
But then the former Los Angeles Hawkins standout and the top-rated receiver in the West took his official visit to USC. That pretty much sealed it and, as many expected, Lewis stayed home to play for the Trojans.
"It feels good staying close to home with my family right down the street," Lewis said this past weekend at the Steve Clarkson Quarterback Retreat. "It just feels good to be able to put on for my city.
"At first in the process, SC was kind of slow but they started to pick it up. That's when Nebraska started showing a lot of interest and that's when it was between Nebraska, SC and Oregon. It was more Nebraska and then the official visit I took to USC topped it off and I chose them."
Lewis flirted with the Huskers for a long time, took multiple visits to Lincoln and Nebraska felt hopeful it could land the high four-star receiver. Rightfully so. For a time, it looked headed in that direction.
However, as the process dragged closer to decision day, Lewis started leaning more toward USC. He even found himself cheering for the Trojans in their thrilling come-from-behind win over Penn State in the Rose Bowl when he was in San Antonio.
"I'd have to say the talks with the coaches and the relationships really stood out," Lewis said.
"I watched them all year. Every team that was in my top I watched all year. We were at the Army All-American Game watching the Rose Bowl and it was a really good game."
The Trojans have some young, talented receivers in Tyler Vaughns, Michael Pittman and others but Lewis could fill the void left by JuJu Smith-Schuster, who was drafted by the Pittsburgh Steelers.
Those are big shoes to fill but Lewis has the talent and the size to be something special in USC's offense.
"I'm more of a JuJu-type, more of a big-bodied receiver," Lewis said. "I can be used outside and maybe even a little bit inside."