Four-star WR Jalen Hale caps rollercoaster week with commitment to Alabama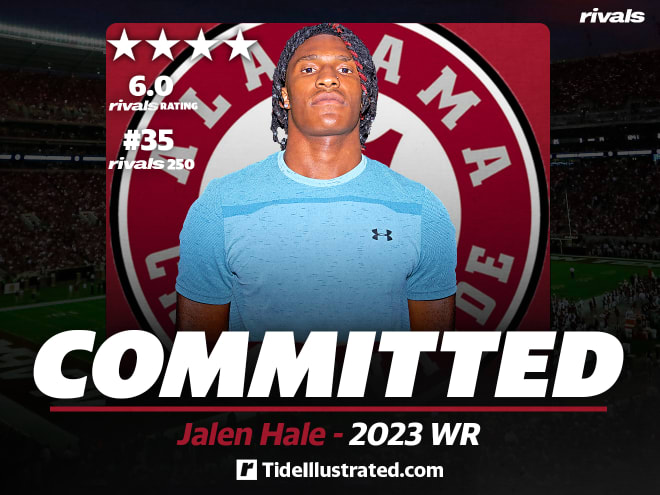 LONGVIEW, Texas — Longview (Texas) four-star wide receiver Jalen Hale capped a rollercoaster recruitment on Wednesday afternoon with a commitment to Alabama over Georgia, Texas and Texas A&M.
Hale's decision-making process started in the early summer when he told reporters at Future 50 in Bradenton, Fla. that he had already made his decision but that he would sit on it until late September. The intel at the time suggested that the pick was Texas given what sources close to the family iterated and his close relationship with multiple Texas commits.
However, Hale took an official visit to Alabama on Sept. 3 for the Crimson Tide's game against Utah State and took his official visit to Texas the following weekend when the Longhorns fell to Alabama at home. The opportunity at Alabama became more intriguing to the family, a source said, and it led to his pledge on Wednesday.
For Hale, he was excited to get his decision past him and focus on his senior season.
"I've been waiting to get it over with," Hale said. "You know what they do with receivers, they develop receivers. They have a good academic program. It's home."
His relationship with receivers coach Holmon Wiggins stood out for Alabama as the two have built a close relationship.
"He's like a father to me," he said. "We've built a good relationship and when I go down there, he's like a father."
On his official visit, Hale saw everything he wanted to see in Tuscaloosa to want to call it his new home.
"It's what I expected when I went down there," he said. "To me, it felt like the fit for me. It was home."
Now Hale will get to work on recruiting other top players in Texas to Alabama, including two Texas commits.
"Aeryn Hampton and Derrick McFall," he said. "Really Johntay (Cook), I really want to flip Johntay."
COMMITMENT ANALYSIS
Hale possesses the rare combination of athleticism and legitimate size as an outside receiver. His size allows him to out-muscle defensive backs off the line and in jump-ball situations, while his athleticism translates into speed downfield and a smooth route-running ability that can create separation from the twitchiest of defensive backs.
At Alabama, Hale will join a position room that has seen a little downside in the last two seasons, but the Tide have multiple young playmakers from the 2022 and 2023 classes that will be able to contribute as early as next season.
After enrolling early in January, the expectation is that Hale would have a good chance to be among the top of the young receiver talent on the depth chart as the spring develops.
At 6-foot-2, 175 pounds, Hale is the No. 35 ranked recruit in the country for the class of 2023, according to Rivals. He is the No. 10 recruit from the state of Texas and the No. 7 wide receiver in the country.