Four-star WR Isaiah Hodgins commits to Oregon State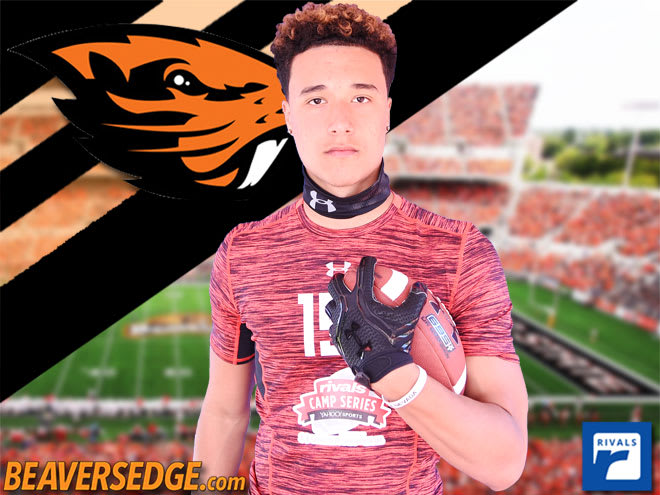 Early in his recruitment, Isaiah Hodgins was committed to Washington State, but he reopened things and teams from across the country came calling.
The four-star wide receiver from Walnut Creek (Calif.) Berean Christian eventually narrowed his choices to Oregon, Oregon State and Nebraska, and on Friday night, Hodgins pledged to the Beavers.
Everything he was looking for, he found in Corvallis.
"I was just really comfortable there," Hodgins said. "When I went on my visit and everything, I was comfortable with the coaches and players and my parents felt that way, too.
"I like the state of Oregon and I really feel I can make an immediate impact there as a freshman, especially being an early enrollee. I know they're going to be passing the ball more in the future, and they have some good quarterbacks coming up, so I was just really comfortable there, and my heart was telling me to go there."
One of the biggest factors in Hodgins' decision was that the Oregon State coaching staff laid out their plans to him to use the passing game more once he gets to campus.
The message was basically once the Beavers have the components in place, throwing the ball will be a bigger focus.
"It's definitely big-time right now," Hodgins said. "When you talk to the coaches and you look at the games, it makes sense.
"They're just not throwing it a lot right now because they can't and they don't have the wide receivers to make the plays and the people ready to do all that, but if they get wide receivers in there, and they have some good JUCO quarterbacks coming in and some good, young quarterbacks there, they're a young team, they're going to be rolling in the future."
There is also a past connection that helped the Beavers. Hodgins' father, James, was coached by current Oregon State inside receivers coach Dave Baldwin at San Jose State. That tie-in certainly did not hurt as the recruiting process entered the latter stages.
Before Friday night's game, Hodgins had totaled 76 receptions for 1,281 yards and 17 touchdowns.
Related content