Four-star RB Taylor Tatum among the nation's most recruited backfield stars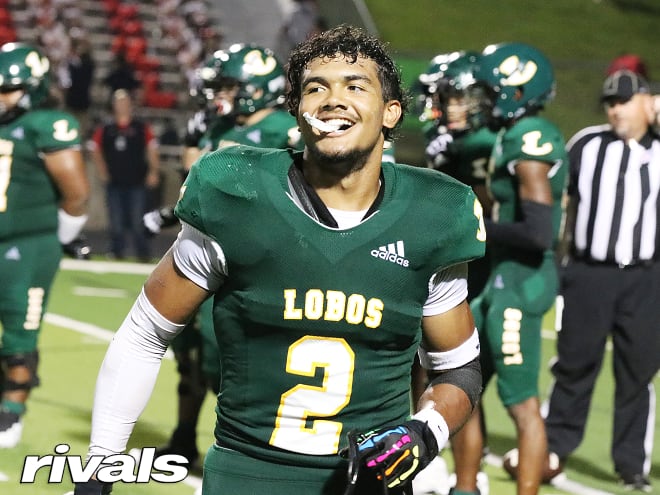 Longview (Texas) four-star running back Taylor Tatum had arguably the strongest junior campaign of any backfield weapon in the state of Texas last season after rushing for 1,891 yards and 33 touchdowns on an offense with multiple playmakers around him.
As a result, the nation's top programs at developing running back talent are in pursuit of the East Texas playmaker, as he plans to go see Ohio State, Georgia and Oregon this spring.
At Ohio State, his relationship with running backs coach Tony Alford has been longstanding, and it has Tatum excited to see Columbus.
"The relationship with Coach Alford, we had been building it even before he offered me," Tatum said. "He talks to my parents a lot and seeing how much our relationship has grown, I want to go up there and see him."
At Oregon, running backs coach Carlos Locklyn offered Tatum early before his breakout season and has maintained contact while other programs have entered the mix.
"Been in contact with Coach Lock a lot," he said. "He actually offered me early, so that meant a lot. Always a good program, always in the top ten. Just want to get up there and see the facilities. He has a strong relationship with my parents too."
Georgia's history under running backs coach Dell McGee has caught Tatum's attention as well and it has him eager to see Athens this spring.
"Georgia is Georgia, they're always putting running backs in the league," he said. "Getting offered from a program like that is a blessing. Just building that relationship with Coach McGee from day one has been important to me."
While national schools make up some of his top options, Tatum is also heavily considering a trio of local options as Texas A&M, Texas and Oklahoma have all made impacts in his recruitment.
At Texas A&M, the arrival of new running backs coach Marquel Blackwell has furthered the Aggies into consideration as the two have a strong relationship from Blackwell's time at Ole Miss.
"(Blackwell) being a little bit closer helps them for sure," he said. "He texted me the day after he got hired. He said he's enjoying Texas and Rueben (Owens), who's my homeboy. Looking to get back up there soon."
Tatum took notice of what Texas running backs coach Tashard Choice has been able to do in his short time in Austin, and it has him excited for the future in Austin.
"Went to Texas for the junior day," he said. "Seeing what Coach Choice has done with the running backs since he's been there has been amazing."
Oklahoma running backs coach DeMarco Murray has been one of the top recruiters for Tatum so far, keeping the Sooners in the mix.
"OU, Coach Murray up there is a great recruiter and great guy," he said.
With Tatum planning on enrolling in the summer after his senior year, he plans on taking his time to make a final decision so that he doesn't have to pull off of a commitment.
"I think I'm just taking my time with it," he said. "I definitely want to use some OVs in the summer, maybe two or three, and then save some for the season. I won't be an early enrollment so I have some extra time to make a decision. Once I make a decision, I don't want to do all that decommitment stuff."
At 5-foot-11, 190 pounds, Tatum is ranked as the No. 62 recruit in the country for the class of 2024, according to Rivals. He is the No. 5 running back in the country and the No. 8 recruit from the state of Texas.