Four-star QB solid with Notre Dame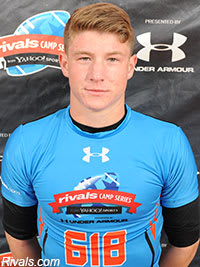 Plenty of top programs have stopped by Corona (Calif.) Santiago in recent weeks to recruit
Blake Barnett
but the four-star quarterback said this past weekend his commitment to Notre Dame remains strong.
Barnett, one of the top performers at the Air Strike Elite Passing Tournament on Saturday, said he hopes Notre Dame fans understand that he'll be courteous to all the coaches who spend their time recruiting him but he's not backing away from his Irish commitment one bit.
"With most schools, a lot of them will respect the commitment as it is and they'll just kind of abide to it when I talk to the coaches," Barnett said. "That's kind of what's been happening recently when schools come by.
"They see a lot of stuff online, too, that probably doesn't help their perspective. They just have to pay attention to what's actually going on so I would say to just pay attention to that."
Oregon and Texas A&M are two of the many programs that have reached out to Barnett, rated as the third-best dual-threat quarterback and the No. 55 recruit in the 2015 class by Rivals.com.
The Corona Santiago standout said Notre Dame has continued to pursue him, not allowing any other programs to make serious in-roads with its quarterback pledge. Barnett said the Irish have not backed down at all.
"Notre Dame has stayed recruiting me," Barnett said. "They stayed on it because they know schools come around especially this time of year when recruiting starts to pick up. They have to be aggressive sometimes, to be honest."
The 6-foot-4, 193-pound recruit plans to visit Notre Dame later this month and he's definitely looking forward to the trip. It should only help to reinforce his decision.
"I'm excited," Barnett said. "It should be fun out there. I get to meet with coach (Brian) Kelly again and all the commits. I'm excited to be back out there and to be in South Bend."