Four-star QB Jaxson Dart headed to USC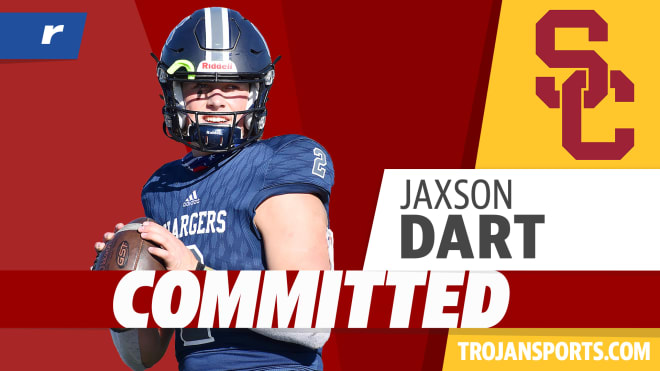 THE SITUATION: Jaxson Dart had one of the best seasons in recent memory throwing for 4,691 yards with 67 touchdowns and four interceptions and also rushing for 1,195 yards and 12 more scores and as he was putting up those numbers his recruitment took off. USC, UCLA, Arizona State and Iowa State emerged as the four frontrunners as Utah and others slid off and then Dart basically narrowed his choices to the Trojans, Bruins, Sun Devils and BYU late in the game. Even when four-stars Jake Garcia and Miller Moss were committed to USC, Dart said he didn't care and would still consider that school and when Garcia backed off his pledge, the Trojans emerged even more.
WHY IT'S BIG FOR USC: After this season, the only scholarship quarterback heading into next year will be Kedon Slovis so USC needed to load up at the position. The Trojans were willing to take three but now two are in the class with Moss and Dart and both are very talented players. Dart provides not only depth but huge upside as a playmaker and someone who will definitely be competing for the starting job in the coming years. His senior season numbers cannot be ignored and that's one of many reasons why USC so heavily pursued him late in the recruiting process.
WHO IT HURTS THE MOST: UCLA and Arizona State both have quarterbacks committed but Dart could be one of the best in the class and his addition could have been massive for both the Bruins and the Sun Devils. BYU had an opportunity to keep Dart in state but that didn't happen as the four-star chose to play in the Pac-12. Finn Collins is committed to the Sun Devils and UCLA has Kajiya Hollawayne locked up but they might not be able to play a senior season in California because of COVID-19 protocols and Dart just had a massive year. His addition to either Pac-12 school would have been huge.
PLAYER BREAKDOWN: Not on the radar earlier in his career because he played at a smaller school, Dart emerged at Draper (Utah) Corner Canyon and his senior season is one for the record books - literally. He is a pocket passer first and foremost, excellent in a spread system but when there are designed runs or he needs to escape pressure, Dart is exceptional as well. In USC's spread system, surrounded by talented receivers, Dart could thrive and it wouldn't be surprising if he earns the starting job in the coming years.