Four-star OT Javonne Shepherd sticks with Texas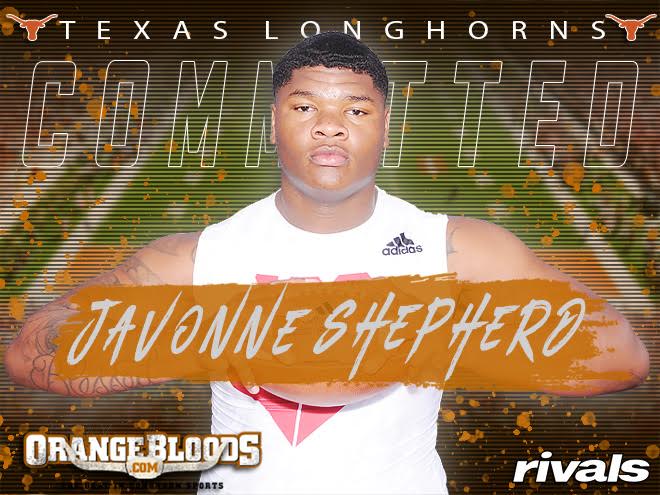 THE SITUATION
Javonne Shepherd was closely connected to Texas A&M early on in his recruitment, while maintaining communication with several other notable programs such as Alabama, Georgia, Oklahoma, Nebraska, LSU and, of course, Texas. His commitment to the Longhorns in July was a bit unprecedented.
After opting not to sign his paperwork during the Early Signing Period, multiple schools took advantage. Alabama, Georgia and Texas A&M were all able to lure Shepherd on campus, with A&M reigniting the passion that originally captivated the blue-chip offensive tackle. Texas managed to get Shepherd back on campus again before National Signing Day and that visit eventually led the blue-chip tackle to stick with the Longhorns.
WHY IT IS BIG FOR TEXAS
Under Tom Herman and offensive line coach Herb Hand, Texas has prioritized finding big bodies to bulk up the trenches on both sides of the line of scrimmage. The Longhorns received an unexpected commitment from Shepherd in July, but not landing his signature during the Early Signing Period was troublesome.
Shepherd saved his final official visit for Texas and the coaching staff was able to seize back momentum and avoid a flip.
The Longhorns boast the No. 3-ranked recruiting class in the country and now boast a trio of 4-star linemen in Isaiah Hookfin, Tyler Johnson and Shepherd, all of whom are in-state products. They are already on their way to capitalizing on that momentum in their 2020 haul with early pledges from Jake Major and Logan Parr -- and they may not be done just yet.
WHY IT HURTS TEXAS A&M
Shepherd undoubtedly flirted with Texas A&M -- just as he did temporarily with Alabama and Georgia. Nonetheless, a return trip to Austin solidified his pact and eventually led him to sign with the Longhorns.
The Aggies still managed to sign an impressive trio of big men up front, most notably 5-star Kenyon Green, who could play tackle or guard, as well as 4-star Layden Robinson and 3-star Blake Trainor. Green's versatility will come in handy here, as without Shepherd his path to the field will likely be at tackle.
Flipping Shepherd would have certainly loomed large for Jimbo Fisher's continued efforts to improve in the trenches and dominate at the line of scrimmage. It would have also been a considerable boost for a recruiting class that entered National Signing Day ranked No. 5 in the country.
Without Shepherd, the Aggies remain in good shape with the linemen they signed. It does, however, add some pressure on the coaching staff to reel in a larger haul of linemen in 2020.