Four-star Marquis Gracial will stay home, play for Mizzou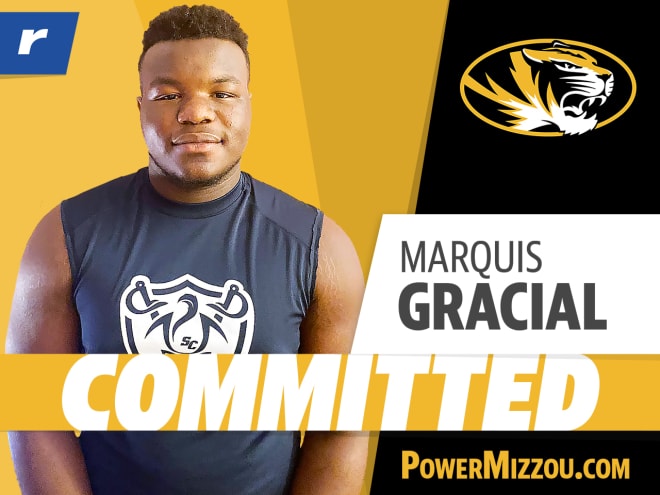 Four-star defensive tackle Marquis Gracial reeled in two dozen offers from some of the top football-playing universities in the country, but when it came down to select one the St. Charles, Mo., prospect decided the best was in his backyard.
"I am going to stay home, commit to Mizzou," Gracial announced. "I just had the best relationship with the coaches. The d-line coach has been in the NFL, has great NFL experience. The strength coach came from Auburn so I know he's going to be a really good guy. But, it really just came down to the relationships and the culture."
Gracial committed to Missouri over a top five that also included Alabama, Arizona State, Iowa State and Oregon. Missouri's proximity, though, gave the Tigers an edge in the midst of this nearly 15-month long recruiting dead period.
"I went up to a spring practice, and they had a lot of fun out there," Gracial said. "Really, Mizzou and Alabama were neck-and-neck. That (visit) helped a lot, and we just kept talking afterwards and it really just (became apparent) this is where I need to be."
While he was considering his decision, Gracial communicated with fellow St. Louis-area prospects like Isaac Thompson, Travion Ford and Mekhi Wingo who are either committed to Missouri or signed in its 2021 class. The push by head coach Eli Drinkwitz to build a program on the foundation of in-state talent appeals to Gracial.
"I think it is pretty cool," Gracial remarked. "He is doing something that has never been done at Mizzou, so being a part of that and changing something would be great."
Gracial has already scheduled his official visit to Missouri, and that will take place the weekend of June 25. He is the sixth in-state commitment for the Tigers in this 2022 class, and several of the others also will be officially visiting Columbia that weekend as well.