Four-star DB Austin Jordan details Texas commitment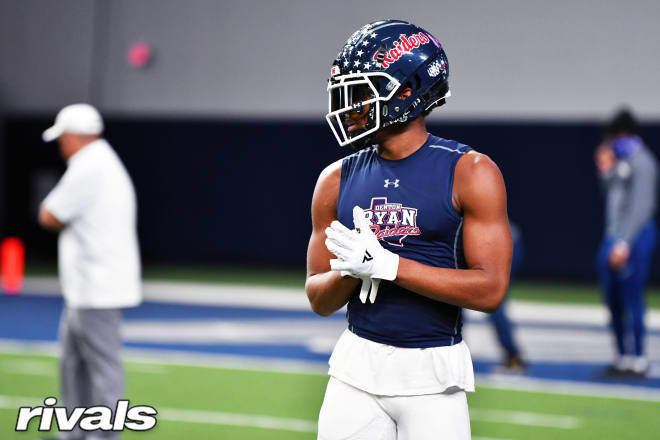 If he's being honest, Austin Jordan wanted to commit multiple times, but as the summer approached he was still torn.
That left the four-star cornerback from Class 5A state champion Denton (Texas) Ryan to take three official visits to each of his finalists. It was Ohio State, Oklahoma and Texas -- in that order - with the last being Jordan's first time back on the Forty Acres and of course his first time getting to chat up Steve Sarkisian and Terry Joseph since taking over in Austin.
In this case, that last visit was eye-opening.

"It really let me see where I wanted to be," Jordan told Rivals. "I didn't know, so I wanted to take my visits and see all the coaches and had those talks and ultimately, we decided it was Texas."
"Texas was my last visit and I genuinely liked what I saw," he continued. "They have very good academics. I like how things worked out. That visit was very important because we hadn't seen them in almost two years. I could see the moves, the stuff their building in the weight room, on the field, and it's gonna be amazing. I forgot what everything looked like. It refreshed my mind ... it felt like family there."
Part of Jordan's decision-making process included his first-ever flight to Ohio to see the Buckeyes and a visit to Oklahoma and time spent with former Ryan teammate and now- Sooners freshman Billy Bowman Jr.
Ohio State, Oklahoma and Texas all emerged as favorites after strong connections made over virtual visits last year. Then, in person, the Longhorns coaches hit it out of the park.
"You start on these virtual calls and you see how this person is, but when you meet them and spend a couple of days with them and it's completely different," Jordan said. "They all had good personalities and come from good families. Coach Sark is amazing and he's an amazing coach. So is coach Joseph."
While in Austin, Jordan sat in on one of Joseph's position meetings and then saw firsthand how the Texas coaching staff envisioned the four-star fitting into the secondary blueprint.
"I sat in on coach Joseph's meeting and room and I really liked it," he said. "They showed me how they'd use me and how I'd fit in and that's really what separated them. They showed me my film and what they could do to make me better. I know I have a chance to go there and to play early, to play in Texas and be around my family - and you play better around your family."
The opportunity to play close to home wound up playing a crucial role in Jordan's recruitment. The return trip to Texas served as the deciding factor.
"When your family comes to the games, you play better. That's just how it is for me," Jordan laughed. "I had visits every other weekend. I went to Ohio. I went to Oklahoma. ... I forgot what everything looked like at Texas and it (the visit) refreshed my mind."