Four-Star Checkup: Running backs that had big games in Week 5
Each week during the college football season, we'll use Tuesday as a chance to look back at four four-star prospects that shined during the previous week's college football action. Today we will focus on a quartet of running backs that had big games in their team's Week 5 victories.
As a recruit: It's always tough for schools from outside the state of Alabama to pull prospects away from Auburn and Alabama but, in the case of Perine, neither program was an obstacle for Florida as neither offered. Florida's early work with Perine paid off as he committed during the spring of his junior year and never wavered. The Gators and Mississippi State were the only Power Five programs to offer Perine.
What he did this week: After an impressive freshman season, Perine got off to a slow start to 2017 but on Saturday he finally got going, rushing for three touchdowns and accounting for 75 yards of offense in the Gators' 38-24 victory over Vanderbilt. Despite his four-star ranking, several schools passed on Perine and he's making them look bad as he continues to make big plays for the Gators just a little more than a year into his college career.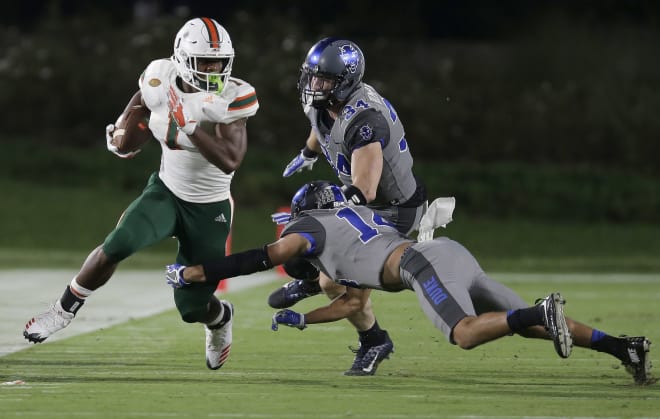 As a recruit: Walton has a unique recruiting story as he initially started his high school career as a member of the 2016 recruiting class and committed to Miami nearly two and a half years before Signing Day. But as he career moved along he made the decision to do extra academic work and reclassify and he successfully moved into the 2015 class and signed with the Canes that year. Walton, a Miami native, had plenty of offers but never really entertained any other programs.
What he did this week: Walton has shown star potential from the beginning of his Miami career and as his junior year moves along he continues to look like the latest in a long line of star running backs at The U. In Friday night's win over Duke, Walton had another game in which he shined both as a runner and as a pass catcher, finishing the game with 130 yards of total offense. Walton has accounted for more than 125 yards of total offense in each of Miami's first three games and will surely have his shot at the NFL if he chooses to test the draft waters this offseason.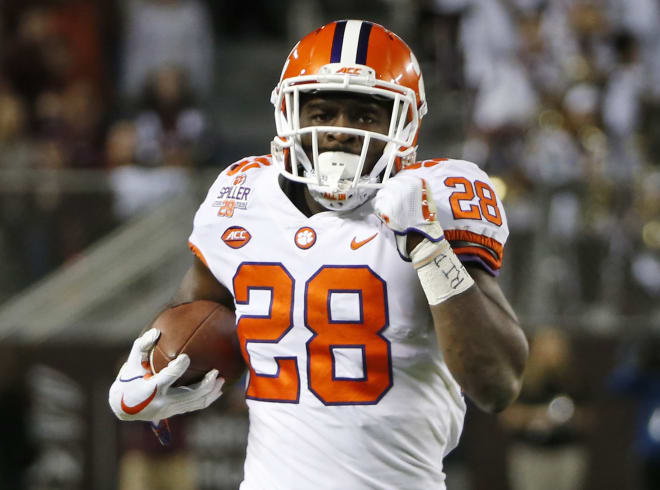 As a recruit: Feaster become a name to know very early in his high school career and he got the accolades and offers that comes along with being a phenom prospect. But from the early going it was clear that Clemson was the team to beat and he committed to the Tigers the day after Signing Day in 2015, a year before he would make it official with the Tigers in 2016.
What he did this week: Feaster's career has gotten off to a slower start than most expected considering the lofty hype that he entered college with, however, this weekend he showed why he was so highly though of as a prospect. In the Tigers' victory over Virginia Tech Feaster had a career day, catching two passes for 63 yards and a touchdown while rushing for 29 more yards and another score. With Wayne Gallman off to the pros, Feaster has a chance to make a name of himself and he seems to be getting more opportunities as the year moves along.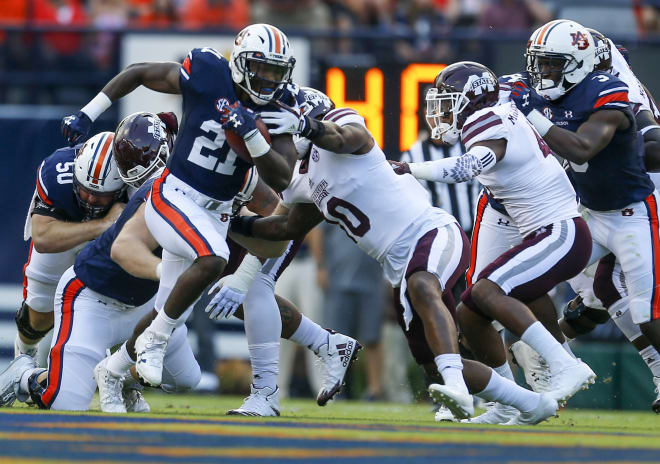 As a recruit: Despite his accomplishments as a running back at the high school level some college coaches thought Johnson would be a better fit on defense. But the coaches at Auburn smartly promised him the opportunity to be an offensive star and landed his commitment in April of 2014, 10 months prior to Signing Day. Despite interest from several other programs, including Alabama, Florida State and Clemson, Johnson never wavered on his pledge to the Tigers.
What he did this week: Johnson has had a nice career so far but he got off to a slow start to 2017 after missing two games due to injury. In Saturday night's blowout victory over Mississippi State, Johnson came up big, rushing for 116 yards and three touchdowns. The game came on the heels of a five-touchdown game against Missouri. Despite playing in just three games this season, Johnson is only five touchdowns away from matching his total from his first two years at Auburn. With the Tigers' offense getting better every week, Johnson should continue to put up impressive numbers.